Greyhound Will No Longer Allow Immigration Checks On Its Buses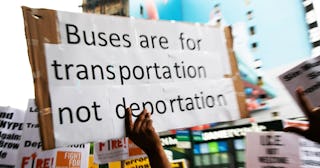 NurPhoto/Getty
Border Patrol agents will now need a warrant to board a Greyhound bus
Greyhound, the largest bus company in the U.S., will no longer allow Border Patrol agents to board its buses to do immigration checks without warrants, according to a report from the Associated Press. This move comes as pressure from civil rights organizations has been mounting and Greyhound faces a California lawsuit over the "routine checks" it has historically allowed onboard its buses.
Previously, officials from Greyhound had said they had no choice but to allow immigration officials to board buses, saying they were just complying with federal law. But the Constitution actually states that Border Patrol agents can't board a bus to do immigration checks unless they have a warrant, or clear permission from the bus company. That information was included in a recently leaked memo from then-Border Patrol Chief Carla Provost, who has since retired.
"When transportation checks occur on a bus at non-checkpoint locations, the agent must demonstrate that he or she gained access to the bus with the consent of the company's owner or one of the company's employees," the memo read. After the memo was leaked, Greyhound faced pressure from immigrant's rights activists, the American Civil Liberties Union and Washington state Attorney General Bob Ferguson to stop allowing Border Patrol agents to conduct checks on board buses.
In a statement to the AP, Greyhound said it would be notifying the Department of Homeland Security that it no longer consents to any searches on its buses or in its terminals unless agents have a warrant. The company also said it would provide training to its drivers and station employees around the new policy, and would be placing stickers on all its buses stating that the company doesn't give permission for Border Patrol to enter without a warrant.
"Our primary concern is the safety of our customers and team members, and we are confident these changes will lead to an improved experience for all parties involved," the statement read.
Greyhound is currently facing a lawsuit in California over Border Patrol searches. The suit alleges that the company violated consumer protection laws by allowing raids and arrests on its buses. Passengers have made video recordings of arrests and detainments on buses, sparking backlash against the company.
The new policy will make Greyhound a safer way for immigrants to travel, and also enforces the notion that no one should be arrested or detained without due process in the U.S.