What The Hell Was ABC Thinking With That Karev Exit
by Julie Scagell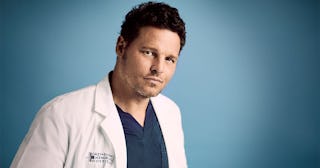 Mike Rosenthal/ABC
This is not the ending fans of Alex and Jo wanted
If you've been a fan of Grey's Anatomy since the beginning, you're likely feeling rather prickly today. One of the show's most beloved characters, Dr. Alex Karev (played by Justin Chambers), was finally written off the show (which we knew was coming), but it's the "how" that has everyone understandably up in arms (we still worship you, Shonda Rhimes).
During Thursday's episode of the hit show, Karev left Grey Sloan Memorial for the last time and with it, he also left his wife Jo (Camilla Luddington) who he has seemed head-over-heels with to move to Kansas to be with his ex-wife, Izzie Stevens (Katherine Heigl) and their five-year-old twins. What in the actual hell?
We can take an accident that causes traumatic brain injuries (RIP McDreamy) or, dammit, even a house fire started by a slow-cooker (RIP Jack). But leaving your wife for your ex-wife after 16 years on the show? We loved Dr. Karev. You made us love him for over a decade and then you pull this? That's some bullshit right there.
People were understandably upset and flocked to social media to share their frustrations with other, equally frustrated fans, cementing the fact that dying is easier to handle than abandonment.
Many fans pointed out the obvious — after years of character development and investment in who Dr. Karev was as a person, he ended his epic run like that. Of course, the sad reality is many of us think we know someone and are ultimately disappointed in who they actually are, so maybe this is just a case of life imitating art. Except backwards.
In January, ABC confirmed to PEOPLE that Chambers was not returning to the series despite being one of the fan favorites. "There's no good time to say goodbye to a show and character that's defined so much of my life for the past 15 years," Chambers said. "For some time now, however, I have hoped to diversify my acting roles and career choices. And, as I turn 50 and am blessed with my remarkable, supportive wife and five wonderful children, now is that time."
He added, "As I move on from Grey's Anatomy, I want to thank the ABC family, Shonda Rimes, original cast members Ellen Pompeo, Chandra Wilson and James Pickens, and the rest of the amazing cast and crew, both past and present, and, of course, the fans for an extraordinary ride."
"I have a chance to make this family whole, and I just hope you loved me back enough to let me take it," Meredith Grey (Ellen Pompeo) read to herself when she learned of Karev's decision in a letter he'd written to Jo. "I can't lie to you and pretend the truth isn't the truth. That I love you, and I love Izzie." Dammit.
For the past 10 years, Grey's fans have been asking for Izzie's character to get a proper ending, but I'm not sure we knew what we were asking for.
This article was originally published on