'Grey's Anatomy' Donates Medical Supplies To Help Fight Coronavirus
by Christina Marfice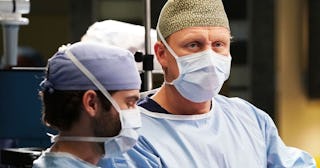 ABC
Medical dramas like Grey's Anatomy are donating their stocks of masks and other supplies to help combat shortages
There's a reason the hospital settings in medical dramas like Grey's Anatomy look so real: They use real medical supplies as props. And now, as coronavirus continues to spread across the U.S., production on those shows is shut down, and they're donating the supplies they usually use as props to real hospitals to help address the growing shortage of medical supplies needed to fight the virus.
Grey's isn't the only show that's doing this — The Good Doctor, Station 19, and The Resident have all donated the medical supplies they have from their hospital film shoots to local hospitals and first responders who need them to stay safe on the front lines of fighting the virus.
"At Station 19, we were lucky enough to have about 300 of the coveted N95 masks which we donated to our local fire station," the show's executive producer Krista Vernoff told E! News. "They were tremendously grateful. At Grey's Anatomy, we have a backstock of gowns and gloves which we are donating as well. We are all overwhelmed with gratitude for our healthcare workers during this incredibly difficult time, and in addition to these donations, we are doing our part to help them by staying home."
Dr. Karen Law, a rheumatologist at Atlanta's Grady Memorial Hospital, was one of the medical providers who received a donation from the cast and crew of The Resident, which films in the area.
"To the entire team @theresidentonfox, thank you for this incredibly generous donation of #PPE from your set, including gowns, masks, gloves, and all the things our healthcare workers need to provide safe care for our community during #COVID19," she wrote on Instagram. "Yesterday, I had a serious discussion with the residents about how, though supplies are low, a magical shipment of masks is unlikely to arrive. And yet, a magical shipment of masks DID arrive, in the form of this very generous gesture. This kind of community support means so much to our #frontlineproviders who are making many sacrifices to staff our hospitals and care for our community."
The need is very real as evidenced by hospitals asking volunteers to sew medical masks for healthcare workers to use while fighting the coronavirus. It's terrifying that supplies are so low, but heartening to see people coming together and using their skills and resources for the greater good.
This article was originally published on