'Grey's' & 'Station 19' Honors Real-Life Healthcare Workers In New Video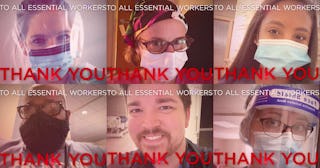 ABC/Youtube
A new teaser promoting a crossover episode between "Grey's Anatomy" and "Station 19" honors real-life healthcare workers
What a rollercoaster of a week. From crying tears of both joy (over the LGBTQI community's #ProudBoys tweets earlier this week) and sorrow (over news of the untimely, COVID-related passing of beloved 71-year-old, South Carolina first grade teacher, Margie Kidd) to rolling our eyes so hard over Trump's incoherent, maniacal tweet-storm, we didn't think we had any feelings left. And then the Grey's Anatomy and Station 19 crossover promo premiered today, and it has promptly warmed our once cold, unfeeling hearts.
As Grey's Anatomy and Station 19 fanatics are well-aware, the two hit ABC dramas will kick off their series return in November with another highly anticipated crossover event. Last month, fans were gifted a 30-second, action-packed teaser trailer. But this new teaser will actually hit you square in the feels.
The teaser — which notably shows characters from both shows wearing personal protective equipment (PPE), like masks and hazmat suits, for the first time — splices together footage from Grey's Anatomy and Station 19 with photos of real-life healthcare and frontline heroes working in hospitals across the country.
And throughout the entire promo, in true Grey's fashion, the Fray's "How to Save a Life" plays in the background — a song that just somehow immediately gives you goosebumps.
"We all have heroes — people we aspire to be, the ones who fight, who help us to survive when it matters; the ones who always show up to save the day. Thank you," Grey's star Ellen Pompeo says in the teaser.
According to showrunner and executive producer for both shows Krista Vernoff, who recently revealed that Season 17 of Grey's will write the COVID-19 pandemic into its storylines, "this season, our work is dedicated to the healthcare workers who put their lives on the line every day to try to save ours. Wear a mask, save someone else's life."
Earlier in the pandemic, Vernoff told The Hollywood Reporter that it felt "irresponsible to the medical community" to ignore the "biggest medical story of the century" in the upcoming season of Grey's, which was one of the first shows to shut down production in March.
"It just felt like we had to tell this story," Vernoff said. "The conversation became: How do we tell this painful and brutal story that has hit our medical community so intensely and permanently changed medicine? And create some escapism? And create romance, comedy and joy and fun? That's the challenge this season."
Last month, when Grey's resumed production, Pompeo took to Instagram to share her appreciation for essential workers.
https://www.instagram.com/p/CE5P-2yAyZh/
"Since we shut down filming, 7,000 healthcare workers have died from Covid," she captioned the serious selfie. "I dedicate my Season 17 to all who have fallen and to everyone of you who by the grace of God is still standing… this season is for you with humility and a bit of humor to get us through and endless amounts of gratitude. I hope we do you proud."
The crossover special premieres Nov. 12 at 8/7c on ABC and will be followed by a two-hour episode of Grey's Anatomy. Start hydrating now.