I'm Grieving For All The Things My Husband's Missing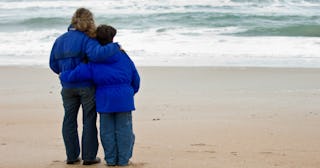 Juanmonino/Getty Images
A couple of weeks ago, my daughter graduated fifth grade. The moment marked the end of her elementary school career. It marked the beginning of her journey into adolescence. As I watched her walk with her classmates to the stage, I was prepared for my grief. I was prepared for the heartbreak that I'd feel when I looked at the empty seat beside me and the person I most wanted to share the moment with wasn't there—he hasn't been there in more than three years because he died on February 3, 2018.
I was even prepared for my daughter's grief, as much as anyone can prepare for a child's grief. She and I had talked in advance about how proud her father would be. We'd acknowledged how much it would hurt to look into the crowd and see who wasn't there. I prepared myself for the emotional support she would need.
As far as grief work went, I was as prepared as I could be for a day that was sure to be full of joy and grief.
Then the administration turned on a slideshow. Images of my daughter, her friends, her classmates appeared on the big screen progressing in chronological order. At first, all I thought about was how much they'd grown. They were babies when they started school. Now they are tweens with cell phones and TikTok accounts.
Then a photo appeared. It was of my daughter and two friends giving a presentation in second grade. My heart seized. Because I remember when that photo was taken. It was taken during a presentation that parents were invited to attend. I attended alone. Immediately following the presentation, I drove to the hospital to see how badly the tumor had infiltrated my husband's spine and sign the papers for hospice. He died ten days after that photo of my daughter was taken.
On the graduation slideshow, images continued—more images of my daughter, her friends, her classmates. Photo after photo capturing a moment my husband, my children's father, had missed because his life was cruelly and tragically cut short. My eyes teared with grief that I hadn't prepared for, the grief for all that he had missed, for all he didn't get to see and do.
A lot of my grief is focused on what I lost—my husband and coparent and best friend—on what the kids lost—their loving father— what my husband's family and friends lost—a dependable, fun friend. So much of my grieving is focused on what we—those who are left behind—are missing. That's natural. It's hard to be the one left to pick up the pieces, figure out how life looks after it's shattered.
But my husband lost a lot, too. He had dreams that he will never get to pursue, plans that he'll never get to see succeed. He has two children who he loved with his whole heart who he doesn't get to see grow up.
I remember the first time I felt that version of grief. About six months after he died, the company he worked for put in place a data analysis system. For most people, that's hardly noteworthy. But he'd been working to implement something like that system for years. He'd have geeked out over every detail, talked about the new system with anyone who would listen. It would have brought him a lot of joy–which is something he wouldn't even be embarrassed to admit.
Before that moment, I'd been aware that he lost the chance to see his kids grow up, to grow old with me, but something about that—missing the mundane details that would have brought him joy on a Monday afternoon in the office—drove home how much he was missing.
He would have really loved coming home every night to pace the living room, exhausted but exuberant, while giving me a play-by-play of his day. He would have loved playing video games with our son (who was too young for video games when my husband died). He would have loved coaching my daughter through her first mock trial competition.
The breadth of his loss, the ache in saying "he would have," is a kind of grief that always takes your breath away. It did at my daughter's graduation; it did when I learned about the data system. The reality is that grief will crop up a thousand more times at the big special occasions and also in the quiet moments that should belong to our family of four.
The unfairness of it is breathtaking.
Grieving for what your person is missing, for what "he would have loved," is complicated. There is no way to prepare for it. I can't talk about it with him the way I would with my daughter. I can't ready myself to be an emotional support. There's only one thing I can do: it's to live, to lean into the moments he would have loved the most, to capture those moments and preserve them in my memory. Cherish them. It doesn't make the grief go away, but grief never really goes away—even when we're prepared.
This article was originally published on