Grieving Mom Donates 131 Gallons Of Breastmilk To Honor Her Son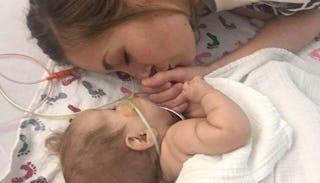 Image via Facebook/ Demi Frandsen
After her 10-month-old dies, mom donates 131 gallons of breast milk in his honor
Omaha mother Demi Frandsen only got 10 months with her beautiful son, Leo, who was born two months premature. His entire life was spent in the NICU at at Children's Hospital and Medical Center. "Leo was born 2 months early and he was diagnosed with gastroschisis. There was no skin to pull over his exposed organs. It was kind of a new case they had not seen before," Demi told WOWT.
Demi said she often felt helpless watching her son in the NICU, the only way she felt she could really help him was by breastfeeding. Even though Leo couldn't handle much milk, she pumped religiously every three hours, and used a q-tip to swab the milk into his mouth.
Demi told WOWT that she and her family treasured every moment they got to spend with their precious Leo. And when he died at 10 months, she had stockpiled 17,503 ounces of breastmilk.
Let that sink in for a minute. That's 131 gallons.
Anyone who has pumped breastmilk knows how much time it takes to fill those little four ounce bottles. Think about the time she spent pumping, and thinking of her beautiful baby. Now think about how incredible it is that she took all of that love and time — and something that symbolizes such an intimate connection to her son — and donated it to benefit other children.
What a truly selfless act.
"With all that was going on in her life she found it in her heart to give to other babies," said Tammi Martin, a Lactation Consultant with Children's Milk Depot in Omaha. "For our babies that are very small, for our sickest, tiniest babies whose mothers can't provide the milk they need," said Martin.
"I pumped every single ounce for him," Demi told Babble. "He is the reason for all of this. But if he couldn't have it, I am so grateful that other babies like him could benefit from it. There isn't anything I wouldn't do for my Leo, and I know other moms feel that desperate love as well. I am glad I can help those moms provide for their little fighter. Other babies surviving from Leo's milk is just another way his life has affected and bettered the lives of so many others."
Imagine all the love wrapped up in those ounces of milk. And all of that will now go to help so many other children who need it.
"He was worth it. He was worth all of this," says Demi, "His life in 10 months was the best 10 months of mine."
This article was originally published on