For Grieving Parents, The Holidays Are Bittersweet
by Stacey Skrysak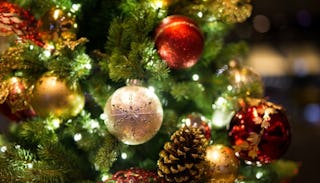 EarnestTse / iStock
The stockings are hung, the tree adorned with ornaments, and the sweet aroma of baking cookies fills the house. The holiday season is officially here. But for parents who are grieving the loss of a child, the holidays can be an especially difficult time of year.
I always adored the holidays. Growing up, December couldn't arrive soon enough. With a childhood of beautiful family traditions, I was eager to pass down my favorite moments to my children. In 2013, I pictured a perfect Christmas. I was pregnant with triplets and expected a chaotic holiday balancing three babies with the never-ending diapers and bottles.
But reality set in more than four months prior my due date when my triplets were born extremely premature. Instead of October, my trio arrived in June. And instead of three healthy babies experiencing their first Christmas, I was forced to balance the joy of one survivor with the grief of losing two of my triplets.
The months leading up to that first Christmas were a whirlwind. My daughter came home from the hospital attached to an oxygen tank, which created a packed schedule of doctor's appointments. Before I even put away my summer wardrobe, winter had arrived. And with the cold air whirling outside, a gust of grief arrived at my front door.
Here's the thing about losing a child — the gut-wrenching, unbearable sadness can arrive without a moment's notice. As my husband and I decorated our tree, the tears trickled onto the pine needles below. I hung an ornament gifted to us, with the words "Baby's First Christmas" stretched across. Suddenly it hit me. I should have three children to create memories with, but instead, Parker and Abby were in heaven.
The actual holiday was joyful as we celebrated with our miracle baby, Peyton, but there was still a void in our home. Those first holidays and anniversaries can be excruciating for parents who have lost a child. The happiest occasions can often bring out the darkest grief.
I wish I could say that time heals all wounds, but that second Christmas without Parker and Abby was nearly as difficult as the first. Our surviving triplet was healthier and gaining strength, plenty of reason to be ecstatic. Still, as I watched her stare in awe at the colorful tree, I couldn't help but feel a pang of emotion. She would never get to experience the beauty of the holidays with her brother and sister. Guilt crept through the sadness as I thought about how my body failed. There was nothing I could do to save my babies. Within two months of birth, my daughter became an "only child" on earth.
As the years pass by, life has changed for the better. I no longer dwell on what could have been, and I don't hold onto that mother's guilt. The grief will never fully go away, it simply changes over time. At 3 years old, our daughter is immersed in the magic of the holidays. She prances around to the songs of the season and shakes each gift under the tree, trying to guess its contents.
I have found life after loss, all while holding onto to the precious memories of my two angels. Our Christmas tree is a collection of Peyton's creations, mixed with mementos to honor Parker and Abby. The holidays are a time for reflection and hope — a chance to see the beauty in this world and to be grateful for all that life has given me. As I look at three little baby booties hanging perfectly on our tree, I can't help but get choked up. Two of my children may not be here on earth, but my love for them will never go away.
As you share in the joy of the season, please take a moment to think about those parents whose hearts may be broken. Instead of celebrating with Santa, eggnog, and presents, they are visiting the grave sites of their children. It's a tradition no parent ever plans for, but for some, it's the only way to spend the holiday with their children.
I know this Christmas will be bittersweet — moments of happiness woven together with a few tears of sadness. Even though my triplets are separated by life and death, all three will be here in spirit. After a day of too many toys and sweets, I will tuck Peyton into bed as I tell her how special she is. And as I kiss her goodnight and tell her I love her, I'll look up to the sky and whisper to heaven, "Merry Christmas. I love you Parker and Abby."