Pickle Bouquets Are The New Valentine Gift You Had No Idea You Wanted
by Valerie Williams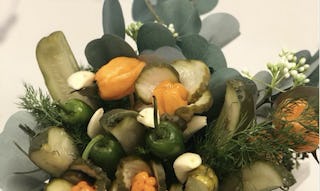 Image via Grillo's
You heard it here first — pickle bouquets are the new dozen roses
Flowers and chocolate are a Valentine tale as old as time, and even though we love all of that jazz (especially when the two are combined into one beautiful candy arrangement), it gets a tad boring.
That's why we're completely intrigued by the idea of a bouquet made entirely of pickles.
OK, to be fair, there are some nifty peppers thrown in there too. And some fresh dill, I think? I don't know, I can't always identify fresh herbs on sight, all I know is that it looks BEAUTIFUL and perfectly sour and delicious.
That magical pickle goodness comes to us courtesy of Grillo's, a Boston-based pickle company that came up with this brilliant idea. Though they don't actually sell the arrangements to order, they do want anyone and everyone to be able to recreate this glorious, edible expression of love.
"Not only is a pickle bouquet more beautiful than a dozen red roses, and healthier than a standard box of chocolate, it's also far more creative," Grillo's founder and CEO Travis Grillo tells TODAY. "Grillo's Hot Italian Dill pickles make it easy for consumers to spice things up with their hottie, while the brand's Bread & Butter pickles offer a low-cal treat for sweeties nationwide."
Of the bouquet's appeal, Grillo clearly knows his audience. "We know there are a lot of pickle lovers out there that would love nothing more than to get a Valentine's Day gift loaded with their favorite snack," he says.
Grillo shares that the idea for the salty bouquet was the result of inspiration from a 100-year-old Italian family recipe involving cucumbers, salt, dill, garlic, water, grape leaves and vinegar. Hence, the addition of garlic bulbs and fresh dill (see? I was right about the dill!) to give the whole thing many hints of the traditional recipe.
The experts at Grillo's shared with TODAY the exact method one should use when crafting their own bounty of giftable pickles:
First, you'll want to select a bunch of your (or your loved one's) favorite pickles. Grillo's suggests a few flavors like dill, hot, bread and butter, and various shapes and sizes. Get some whole ones. Grab some spears and chips. There are no rules here, just wonderful pickles.
Then, arrange it all, of course. Grillo's suggests using bamboo kebab skewers and toothpicks to hold it all together.
Now it's time for garnish and that's when the herbs and various peppers come in. You can obviously get extremely creative here, which is all part of the fun.
In case you didn't already know, pickles are kind of having a moment. There are whole gift sets full of on-brand merch solely dedicated to pickle fans. You can set sail on a pickle pool float or even eat pickle candy canes during the holidays. The sky's the limit in these pickle-loving times, y'all.
If you don't have anyone in your life willing to make an expression of love just for you entirely out of pickles, you can always make one yourself. Half the country is trapped inside due to the polar vortex, so why not raid the fridge and get inspired? Flowers die, but you can eat pickles. Best idea ever.
This article was originally published on