Grimes Says Her Baby Knows She Hates The Word 'Mother' And Calls Her 'Claire' Instead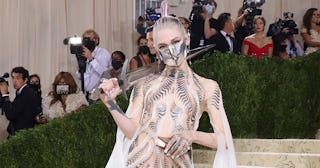 Taylor Hill/Getty
Grimes told Vogue she "can't identify" with the word "mother," and said her baby X calls her Claire
Awww, first-time mommies are so adorable. Carrying on a tradition of doting parents everywhere, Grimes boasted about the incredible bond she shares with her son. Grimes and her partner Elon Musk welcomed their son last year, but she says she has no desire to be called "mom."
The musician, whose full name is Claire Elise Boucher, told Vogue in a video as she got ready for the Met Gala that her 16-month-old son X Æ A-Xii ('X' for short) calls her by her first name because he knows she doesn't like being called "mother."
"I think having a baby was a big rebirth for me, like artistically," she said. "Being a mother feels weird to say. For some reason, I don't identify with that word."
"Which is also really weird because X, he says 'Claire,' but he doesn't say 'mama.' Which is so… I'm like, 'How are you…?' " she elaborated. "Like, maybe he can sense my distaste for the word 'mother.'"
Which is exactly as it should be. Every baby deserves adults in their life who think they are the smartest, most empathetic, most talented, funniest, silliest… everything. That's what children do to their parents — they turn them into people with hearts as big and as sappy as a Hallmark store.
X Æ A-Xii is Grimes' first baby, while Musk is dad to twins Xavier and Griffin, 17, and triplets Kai, Saxon, and Damian, 15. His first son, Nevada, died of SIDS in 2002 at 10 weeks old.
The unconventional baby name chosen by Grimes and Musk made headlines. Grimes explained their son's name to her Twitter followers, "X" is "the unknown variable," while "Æ" is the elven spelling of Ai (love &/or Artificial intelligence)."
She added that part of the baby's name was inspired by the CIA's Lockheed A-12 reconnaissance plane. "A-12 = precursor to SR-17 (our favorite aircraft). No weapons, no defenses, just speed," Grimes explained. "Great in battle, but non-violent."
While they initially named him X Æ A-12, the couple later changed their son's name to X Æ A-Xii on his birth certificate. At the time, family law attorney David Glass told People,"you can't have numbers, Roman numerals, accents, umlauts or other symbols or emojis" in a legal name in California.