Grocery Store Employee Provides 'Miracle Moment' For Teen With Autism
by Jerriann Sullivan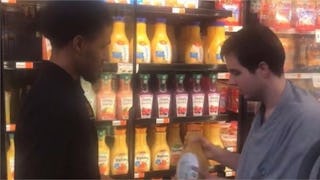 Images via Delaney Alwosaibi
Grocery store clerk let teen with autism stock shelves
A thoughtful gesture by a grocery store employee toward a teen who has autism has gone viral because the world desperately needs heartwarming moments of kindness — and this employee deserves to be recognized.
Delaney Alwosaibi cried when she saw the video her dad took of her 17-year-old brother, Jack Ryan Edwards, stocking the shelves at their local Baton Rouge area Rouses grocery store. While the act might seem simple, it was practically a miracle for Alwosaibi's family. Sometimes her brother isn't treated very well by strangers because he's on the autism spectrum. But when he went to the grocery store and noticed Jordan Taylor, 20, stocking shelves he wanted to help. So Taylor let him.
"He could have made an excuse and said he couldn't allow him to help. Instead, he let him have his moment and in turn gave my family a moment we will never forget," Alwosaibi wrote in her Facebook post, which has gone viral. "It might seem like nothing to others, but as you can hear my dad say in the video, 'I'm watching a miracle right now.'"
"We all know autism makes going out difficult, and sometimes grocery stores can be a challenge," Alwosaibi shared. But Taylor reacted to Jack's interest in the best way possible — he encouraged him. "This young man took the time to slow down and allow Jack Ryan to help for over 30 minutes, guiding him as he finished his task."
Alwosaibi's dad was so touched by the moment that he took a few videos and shared them with his daughter, who posted them with her message of thanks on Facebook. Once it went viral, the family was able to meet Taylor again and thank him in person. "I met Jordan today and got to personally thank him as did the rest of my family," Alwosaibi told Scary Mommy. "I also met his mom and brother. I gave his Mom the biggest hug; it was my way of thanking her for raising him to treat people with disabilities with such honor and respect."
Happily, Alwosaibi reports that Taylor will be given a token of appreciation for his kindness. "Our local news station is going to feature him in 'Hand It On' so he is receiving $300." The family has also set up a GoFundMe for his education.
Taylor told TV station WAFB that making someone happy was the motivation behind his kind gesture. "If you would have flipped the camera, you would have seen his dad's face. It said it all. He was just happy, and he [Jack Ryan] was happy putting the juices up, and I was just happy that I could make someone else happy and make their day," he explained. Alwosaibi and Taylor both said that they were surprised but delighted that the story went viral. "Never pictured all this would happen. I was just being me," the grocery store employee shared. "I just wanted to help somebody out, enjoy something."