Hero Groom Jumps Into River To Rescue Child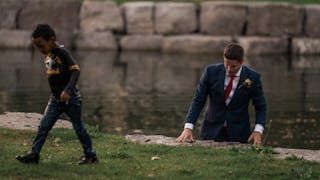 Image via Hatt Photography
He jumped into the water in his wedding clothes to rescue a child who fell in
A couple's wedding photos are going viral for a pretty impressive reason. While his bride posed for pictures, a groom rescued a child who fell into a river. A groom. In his wedding clothes. Stopped everything on his wedding day and jumped into a river to save a kid.
Luckily, the photographer captured the aftermath of his heroic feat at just the right moment.
Darren Hatt of Hatt Photography was going about his usual wedding photographer business for Brittany and Clayton Cook's special day at Victoria Park in Ontario when he caught something extraordinary.
Hatt tells Scary Mommy, "It was a pretty normal wedding day. I was shooting the bride and groom and she had asked that I shoot some solo pictures of her. The groom was behind me as was the river," he explains. "The bride had shouted out and just as quickly as I turned around, the groom had fished out a little boy."
"The very first shot I took was the one with child in hand. It was over as quickly as it was done," Hatt shares.
After Cook's jump into the water, the show went on seamlessly. "I quickly realized he had matters well in hand so I continued to capturing their day," says Hatt. According to London Free Press, Cook went back to his reception with soaking wet pants. The child hung around briefly with the wedding party before returning to his own family, and all was well.
And a beautiful day it was.
We're thinking Brittany was even more in love with her groom after seeing him jump into action on behalf of a kiddo in need. Twitter is certainly feeling it.
https://twitter.com/jetpack/status/912293213330866176
As far as all the accolades from the Kodak moment Hatt captured? "I just wanted to bring attention to a good deed and the internet has responded very positively."
Mission accomplished.
This article was originally published on