Groom Surprises Bride With New Kitten On Their Wedding Day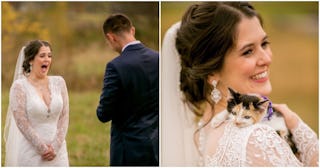 Kaylee Schmidt Metheny/Megan O'Dell
A bride got a new husband and a kitten on her big day
One bride got more than just a husband on her wedding day — she also got what she'd wanted for just as long but didn't think she'd ever get — a pet kitten. Bride Kaylee Schmidt Metheny was excited about her wedding to now-husband, Orion Metheny, and even more so to move in together. The pair were married on October 19, 2019 in Bridgeport, West Virginia and planned to move in immediately, which was exciting considering Kaylee had been living with her parents while the two planned their wedding. The only problem? She was sad to be leaving the family cat.
Kaylee said she'd mentioned the idea of getting a cat with Orion but he wasn't too keen on the idea. He wasn't a fan of "indoor pets" having grown up on farms with outdoor animals like horses and chickens. However, it turns out Orion was willing to do anything to keep his wife happy — including going against his "no indoor pets" rule. He took in an abandoned kitten he found near their home, and surprised Kaylee with her on their wedding day.
The blushing bride tells Scary Mommy that her husband had some help keeping his secret until their big day. "His immediate family and grandparents all knew, as well as one or two friends who were helping him try to find a kitten to adopt," she said. Their photographer, Megan O'Dell from Wild and Wonderful Photography, captured the sweet moment when Orion surprised Kaylee and by the look on her face I'd say he pulled it off perfectly.
Kaylee told The Huffington Post that the gesture just proved to her how selfless her new hubby really is. "The fact that Orion was willing to go out of his comfort zone in order to make me happy just shows how thoughtful of a person he is," she said.
The kitten, named Chloe, was obviously a big hit because Look At Her. Kaylee said the little calico is fitting in nicely to their new family and that she's spreading her love equally between her and her husband. "I'd say Chloe loves us both pretty equally!" she added to us. "She's more rambunctious with Orion, mainly because he loves to see her all wound up and hyper! So he'll run with her around the house with her toys. She always comes to me though when she's sleepy and will cuddle and sleep in my lap."
Here's hoping little Chloe is the first of many pets the couple eventually adopt!