Amazing Program Gives 3 Years Worth Of Diapers To Families In Need For Only $40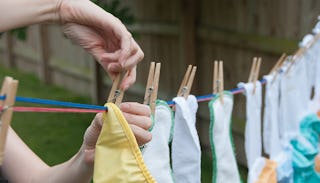 You read that right, for $40 a family in need gets diapers from GroVia
Babies are incredible miracles brought into our lives so we can experience unconditional love. They're also expensive. The average middle-income family will spend about $12,940 on kid-related expenses in the first year of the baby's life, according to the 2014 "Cost of Raising a Child" report from the USDA. About $776, or six percent, of that will go to diapers, clothes and shoes for the baby. And that is just one estimate on the cost of babies.
Understanding the stress that cash-strapped parents feel, GroVia came up with a way to lend cloth diapers to families in need. Parents can access cloth diapers from their baby's birth to their third year for a single fee of $40. "GroVia believes that no baby should go without clean, safety-compliant diapers, and no family should have to choose between paying for food and utilities and diapering their baby," their site reads.
Parents who qualify for the GroVia Gives program pay one fee and rent the diapers, which are designed and manufactured by GroVia. The organization sends a diaper set that includes 16 bamboo/cotton trifold diapers that fit babies 10 to 35 pounds and four covers. The giving program launched recently, so there is only a limited number of diaper sets that are only available to U.S.-based parents, according to the company.
To apply to receive the diapers families must show some documentation. "We believe that people, especially those who are raising tiny humans, are inherently good and honest," the company said. "This program was crafted so that participants may provide minimal documentation proving their need." Parents fill out this application and show a WIC card or check with applicants' name on it or a food stamp card and one of the following: birth certificate, insurance card, official hospital or state record or a letter from a health care provider. Once approved GroVia sends the family a link so they can pay the rental fee of $40, which includes shipping.
Parenting is considered the hardest job in the world by most people. Even those without children understand how hard parents work to give kids what they need to grow up and be great humans. But sometimes all that work isn't enough to cover the costs that come with raising a child. Help a family in need and share this story or donate a lending set to some parents who could really need it here.
This article was originally published on