This Is What It's Like To Be A Child Growing Up With A Heart Transplant
by Karen Szabo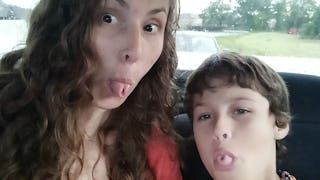 Karen Szabo
"I want to write about you. Do you think that would be okay?"
I asked my nephew if I could write his story while we sat together on the couch, cooling down from a blistering hot day. I've been wanting to write about him for a while, but since he lives in the U.S. and I live in Canada, I wanted to wait to see him before I got started. This kind of thing is best done in person.
My nephew, Landon, is no ordinary boy. He is a ten-year-old kid who has gone through more than any child should ever have to go through in their lifetime. His story began when he was born with half a heart; the right side didn't work. As if being born with only half a heart wasn't bad enough, he was also born with Hirschsprung's disease, a disease that affects the colon and causes problems with bowel movements.
Landon lives in a full and boisterous house with his younger brother and sister and his parents (my sister and her husband). They live in a wonderful neighborhood surrounded by supportive family and friends.
Before Landon was even three years old, he received one blood transfusion and five open-heart surgeries (he received a second blood transfusion earlier this year). When he was just over two-and-a-half, my sister and brother-in-law took him to Boston where he received a mitral-valve repair and a biventricular repair. He was also given a pacemaker with the hopes that it would help.
From Boston, they came to visit us in Toronto, and that's when things took a turn for the worst. The left side of Landon's heart failed, and he needed a heart transplant. As I was not yet a parent, I could only express how I felt as an aunt. However, I hurt terribly for my sister and her husband. More than that, my insides felt like they were crushing under a thousand pounds when I thought about what this meant for my nephew.
At 2 years and 9 months, Landon had a heart transplant. He spent the next 2.5 months in and out of a hospital in Toronto. My family stood together like the glue and did everything we could to ensure Landon was comfortable.
One of the most amazing things Landon's transplant had to offer – besides giving him another chance at life – was when his skin started to turn pink from the gray tinge it had been since he was born. The change was astronomical. It was the most positive beginning to his recovery.
I wanted to know how he felt about having a new heart. I wanted to hear from him, a child, what life is like through his eyes. He agreed to my request. In fact, I think it made him feel good that I even asked.
Even though he agreed to the piece, getting information from him was like pulling teeth. After all, he is a ten-year-old boy. However, using the wonderful world of word association helped me get what I needed from him.
Pain. Even though he was so young, he still remembers the pain after the surgery. He said that he remembers the limitations and worry around him when he woke up after the surgery. He remembers what it was like to be constantly monitored and poked and prodded, mostly because he still gets poked and prodded.
Terrified. Landon explains how being in the hospital as much as he is can be terrifying. He's terrified of the needles and the continuation of said poking and prodding. While he's used to it and handles everything like a champion, there's always a chance that something else could be wrong and that frightens him.
Frustrated. He is frustrated with any limitation he runs into due to having a weaker body. Bike riding is tricky for him because his legs don't have the same kind of strength as other boys his age. However, at the same time, he laughs in the face of limitation. He can do most things a typical boy his age can do, including playing sports, which he does a lot of. His determination keeps him going and he is often able to use the frustration as a motivator to push himself.
Grateful. He is grateful for the devoted and dedicated family he has and how his siblings help him. He is grateful that, being a major sports fanatic, he can play sports. Lastly, he is not only grateful to his donor, but to donors in general. My nephew got the heart of a young child who had passed away that same weekend. Through the pain of losing their own child, these parents made the brave decision to donate their child's organs and, in turn, saved another child's life.
While writing this piece together, I found out that this incredible kid doesn't have insecurities, nor does he think about needing another heart down the road. He lives for the day and in the moment. He also laughs at the fact that he is the only kid we know who gets to celebrate two birthdays: one on the day he was born, and the other on the day received his second chance at life.
Landon lives a complicated life, yet he always seems to smile. He has traveled across the states to see different doctors and specialists regarding his conditions, yet he never stops being positive. No matter what is going on, the kid fights with all his might. He was forced to grow up before he was ready, but he did so without blinking.
The boy is a poster-child for resiliency and I'm super proud of him. He's my hero.