15 Reasons Growing Up With Siblings Was Awesome
by Scary Mommy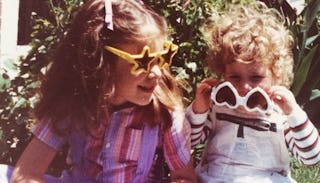 There's absolutely nothing on earth like a sibling. If you were lucky enough to have one or several growing up, here's to them! Because siblings are just the best… eventually.
1. You learned resilience.
2. Built in entertainment, no toys necessary.
3. You rocked the same exact haircuts all through your childhood, never mind your gender.
3. Sibling shirts!
4. There was always someone to test out the latest technology with.
5. You rocked the hottest fashion trends.
6. And had someone to practice your super model pose alongside.
7. Cross dressing was fully accepted.
8. As were coordinating outfits.
9. And, of course, matching pajamas.
10. You could play teacher or student.
11. And had a built in cheering squad for every game.
12. Chillin' with homies was much better than chillin' alone.
13. You could never really be lonely.
14. And bedtime was never boring.
15. Most of all, nobody else will ever understand what it was like to grow up in your crazy ass family.
Happy National Siblings Day!
This article was originally published on