Finally, Some Leggings That Your Killer Thighs Won't Bust Out Of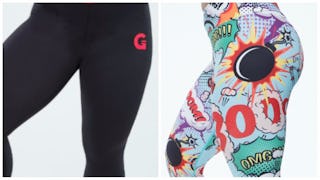 Workout gear with room for our curves? Yes please
Despite what one school principal may have said last week, leggings are for everybody. But when you're a lady who's thighs don't just touch, they full-on make out with each other, it can be a challenge to find cute workout clothes that can stand up to a whatever you throw at them, be it running errands all day or an actual run.
GRRRL is here to change that. Founded by Kortney Olson, known as the woman with the world's deadly thighs for her ability to crush watermelons between her legs, this workout and athleisurewear line for women is designed to not only to be functional, but to highlight women's curves too.
Because you're a superhero.
"Woman are born with bigger hips for childbearing," Olson tells Scary Mommy. "Genetically speaking, we're born to have bigger legs than men and men envy us for that." Rather than design workout clothes to try and hide or minimize our legs, she creates clothes to show off your curves in fun, bright patterns. "Our thighs need to be celebrated. They have the capability to crush souls, not just watermelons," she jokes.
Did we mention the clothes are seriously cute? Look at these unicorn leggings.
Boy tears in tasty drink boxes. The perfect pants for those days when you are not to be tested.
Doughnut shorts. Hell yes.
Let them know with this top.
The styles are unique, but what's even cooler about GRRRL is their sizing structure. Because they know that traditional sizing charts are bullshit, they've done away with them completely. Instead you measure yourself, and order your top or bottom based on the model's name that most closely matches your measurement. Got a 40 inch chest? Go with a Monique. 36 inch hips? That's a Kandyce. Don't see your measurements? Contact them and they'll make something custom just for you.
Peach pants. Because if you've got it, flaunt it.
When pigs fly.
Doing it like a girl is never an bad thing.
You're juicy and you love it.
GRRRL allows their models to decide if they want to wear makeup or not during photoshoots. And while they might add a logo or remove a tag, Photoshop isn't part of their company language. "Women are perfection already. Period." the website explains. "We believe women have more important things to worry about than conforming to media stereotypes of what they should or should NOT look like."
Workout gear that gets us pumped to sweat is great, but GRRRL's hope is that through fitness women find their inner strength too. "Our mentality is strong," says Olson. "Women push babies out of our vaginas and go to work the next day. Men get the flu and it's game over. We are born for power and strength."
This article was originally published on