Trump Asks Guggenheim For A Van Gogh Loaner, They Offer Him A Gold Toilet Instead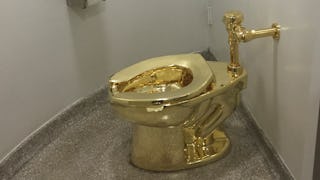 Image via WILLIAM EDWARDS/AFP/Getty Images
The Guggenheim offered the Trumps a golden toilet in lieu of a famed van Gogh painting
Is there anything more Trumpian than a literal golden commode? The Guggenheim certainly didn't think so, and decided to offer the president exactly that when he requested one of their famous works of art to display in the White House's private residence.
The Guggenheim throws surprisingly epic shade for an art museum.
According to an email obtained by The Washington Post, Donald and Melania Trump wanted an 1888 Vincent van Gogh painting called "Landscape With Snow" to be loaned to them for display in their White House home. It's not hard to understand why, it's absolutely stunning.
Instead, the museum's curator, Nancy Spector, offered the first couple a toilet.
Yes, you read that right.
It's made of 18-karat gold and is fully functioning, but yes, it's a toilet. The gilded throne is an actual work of art on display at the museum titled "America." It was created by contemporary artist Maurizio Cattelan, and for the last year, has been in a public restroom on the Guggenheim's fifth floor where patrons were able to use it. With a guard standing nearby, of course.
But it wasn't on exhibit anymore when the Trumps made their van Gogh request, "should the President and First Lady have any interest in installing it in the White House," Spector wrote.
Epic. Burn. "Oh, that insanely valuable painting? No can do. However, could we interest you in a golden pot people have actually shit in?"
It's not only a seriously upscale dig at the president's well-known love for the ultra tacky, (have you seen photos of his solid gold Manhattan apartment?) it's likely Spector was making a not-so-subtle point about the Trump family brand. Critics have said that "America" is a work of satire aimed at our country's excessive wealth.
Spector wrote her email in September, a month after the toilet went off display at the museum. Such timing! "It is, of course, extremely valuable and somewhat fragile, but we would provide all the instructions for its installation and care," she helpfully explained to White House Curator Donna Hayashi Smith.
For his part, Cattelan has described his own work as "as 1 percent art for the 99 percent." He said, "Whatever you eat, a $200 lunch or a $2 hot dog, the results are the same, toilet-wise."
Indeed.
The White House has yet to comment on whether the Trumps accepted the museum's generous offer, but let's hope like hell they did. Knowing he's doing his daily morning Tweet and Dump from this incredibly well-curated diss warms me deep down inside.