Guide Dog Takes His Owner Into Dog Store And The Internet Is Laughing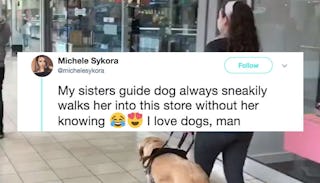 Image via Twitter/Michele Sykora
This sneaky service animal always guides his owner into a dog store
We can finally give out the award for Sneakiest/Most Clever Dog of the Year. Twitter user Michele Sykora posted a video of her sister's guide dog leading his owner straight into a dog store, and it is possibly the most joyful thing you'll see all day. A+ for the truly bold effort, doggie.
Sykora took to Twitter and shared a short clip of her sister Danielle being guided directly into a shop called "Cool Dog Gear." What a cheeky boy.
"My sisters guide dog always sneakily walks her into this store without her knowing," she wrote. "I love dogs, man."
Just LOOK at that artful swerve. We should all be so subtle, firm, and graceful when we're trying to get our loved ones to come with us to that ice cream shop/restaurant/movie that no one wants to see. Twitter approves. Because how could you not?
https://twitter.com/jetpack/status/987807777379815425https://twitter.com/jetpack/status/988078740323360769
Some Twitter users shared their own experiences with sneaky service dogs. It turns out that these animals are completely skilled in the art of manipulation — and we are so here for it.
https://twitter.com/jetpack/status/987863382417027072https://twitter.com/jetpack/status/987894198522302464
Don't worry, though. The animals might be a little pushy with their needs, but they're ultimately fiercely attentive to their owners. Sykora posted a picture of Danielle with her service dog, and noted: "He is mad loyal to her otherwise."
Danielle, who has had her dog for four years now, told Scary Mommy that she's surprised the video is going viral because her dog "does silly things like that everyday."
"I want people to understand this is still him doing his job," she noted. "By definition guide dogs have to make decisions for themselves so sometimes that results in dogs showing them something that they like. Its his way of saying 'oh I like this let's go look.'"
Props to this super loyal dog who really just wants to have a good time. Hopefully he ended up getting at least some cool gear.
This article was originally published on