Blind Runner Makes History Finishing NYC Half Marathon With Trio Of Guide Dogs
by Christina Marfice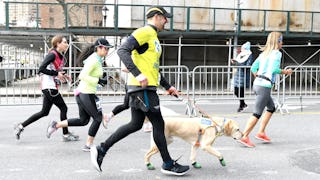 Image via Craig Barritt/Getty Images for Guiding Eyes For The Blind
Waffle, Westley and Gus are the history-making heroes of this year's NYC Half Marathon
Anyone who can finish a half marathon is inspiring as h*ck. But at this year's NYC Half Marathon, there was one particularly inspiring runner. Four runners, actually — Thomas Panek, who is blind, and the trio of guide dogs who helped him become the first visually impaired runner ever to complete the race without a human guide.
With the relay team of Waffle, Westley and Gus, three athletic Labrador retrievers, Panek was able to finish the half in just under two hours and 21 minutes. Gus, who has been his guide dog for years, ran the last 3.1 miles by Panek's side and was officially retired upon receiving his finishers' medal at the finish line.
"It's a little emotional for me because he's been there with me the whole time," Panek said.
We're not crying, you're crying.
Panek is the president and CEO of Guiding Eyes for the Blind, a nonprofit that trains and matches guide dogs to visually impaired people all over the country. He was an avid runner all his life, and when he started losing his vision in his 20s, he knew he didn't want to give up the sport. So through Guiding Eyes for the Blind, he started a program to train guide dogs specifically for running.
"It never made sense to me to walk out the door and leave my guide dog behind when I love to run and they love to run," he told CNN. "It was just a matter of bucking conventional wisdom and saying why not."
Panek had already completed 20 marathons with human guides. But Sunday's event makes him the first blind person ever to finish the NYC Half Marathon with assistance exclusively from guide dogs. Through his nonprofit, he hopes to make this dream possible for others, too. Guiding Eyes has trained more than 35 guide dogs, but only a few of them have been cut out for its Running Guides program, because, Panek said, guiding while running comes with such a unique set of challenges. The dogs have to be able to navigate curbs and terrain changes while tuning out the noise and distractions that happen in a city like New York, all at a running pace. It takes a special kind of dog, and then, a special bond between that dog and its person.
"The bond is really important. You can't just pick up the harness and go for a run with these dogs," Panek explained. "You're training with a team no matter what kind of athlete you are, and you want to spend time together in that training camp."
To prepare for his history-making run in the NYC Half Marathon, Panek has been training with his trio of dogs for months. Even New York's especially chilly weather didn't keep them from getting to the streets for their daily training runs.
Ultimately, Panek hopes his victory will inspire others to follow in his team's 14-legged footsteps.
"Running with your dog is wonderful and if they can do a job while they're doing it and sure, it happens to be 13.1 miles through the streets of New York city but we're going to get it done. I know we will," he told CNN.
Congrats to Panek and his team of very, very good boys.
This article was originally published on