10 Guidelines For Dating A Divorced Dad
by Daniella Fleischer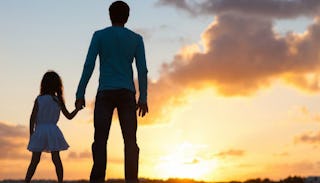 shalamov / iStock
My relationship with a divorced father of three has been one of the most grueling, difficult, maddening, fulfilling, self-revealing things I've ever done, and it has taken me a boatload of wrong moves and bad fights to find my way. If you're dating a single dad, these 10 guidelines can help you avoid my mistakes.
1. Don't take anything personally.
You might be thinking: Yeah, I know, the children of the man I love don't want me around, which makes said man feel guilty and stretched in too many directions, in turn causing fear and insecurity for us both. Tell me one more time that it's not personal, I dare you. But the fact is that it's true. His kids dislike you only as a concept, not as a person—they're looking for that same safety and stability we all are, and you just happen to be the embodiment of all that threatens that.
2. It's not personal except when it is.
While it's true that his kids wouldn't like anyone with their father, it isn't anyone—it's you. You are the woman who's actually there, feeling resented, in the way, and often tossed aside for more important things. You're entitled to your feelings about that, and you get some space to make it about you, too, because some of it is.
3. Don't push too hard.
There's nothing worse than a desperate clown doing tricks for approval. Kids have an instinct for sniffing out bullshit, and if you try too hard, they'll take a magnifying glass to whatever warts they've already decided you have. This process is going to take exactly as much time as it will take, and not a moment less.
4. Jealousy is OK.
You're jealous of the time he spends with his kids—that he has these intimate relationships of which you are not a part. That's OK. You can't help your feelings. You love this person, and you want to be a part of the good things in his life, and sometimes you feel crappy when you're not.
5. His kids are just scared.
A friend once told me something that changed my perspective: When she was young, her father's girlfriend reinforced the fear that she was going to lose her father. She'd already lost something immense when her parents divorced, and she couldn't bear the thought of losing anything else. My friend's resentment was just fear dressed up as something else, and the girlfriend was just collateral damage. That clear and simple explanation cracked everything wide open for me. His kids are just scared. They are just scared. Even though I already knew that, it hit me in a new way when my friend explained it. They're just scared. And doesn't that make perfect sense?
6. Go easy on your man.
He's doing the best he can, and the last thing he needs is to feel even guiltier than he already feels. Chances are, no matter where he is, he feels like he's letting someone down, and between the two factions in his life, you are (supposedly) the grown-up. You get to decide to make his life easier. Sometimes when parenting duties push me off the docket, I can see in his eyes how torn up he feels—how much he hates disappointing me but has no choice. When I am my better self and I see that look in his eyes, I give him a kiss, tell him I love him, and go on my way. (I am not always my better self.)
7. You wouldn't want him to be a crappy father.
If he was the kind of man who would put his girlfriend before his kids, you wouldn't want him.
8. Stay in your own life.
If he's your entire world, then all you'll be able to see when he spends time with his kids is time that you don't get to be with him. Keep your life full of things that are only yours, that have nothing to do with who you are as a girlfriend. See your friends, take yourself to a movie, catch up on some work, or just be by yourself and breathe. It can be a beautiful thing if you let it, but if you don't, he'll feel the pressure of being the only thing in your life, even if it goes unsaid. Staying in your own lane is not only crucial to your own sense of self, but has the added benefit of making you more appealing to your man. Let him miss you a little.
9. You can always leave.
You both love each other very much. You have something real and maybe even rare with him, and the only thing either one of you wants to do is plan a life together. And sometimes that isn't enough. No one is putting a gun to your head and forcing you to be in this relationship. If what he has to offer is not enough, you get to leave.
10. Let go.
When I want something badly, I often fail to do the one thing that might actually allow for me to have it: relinquish control. I get lost in my own plans to ensure that I get whatever it is I think I need and become convinced that there must be some "answer" that I just haven't found yet. There isn't. There's no plan, no specific actions that I can take that will ensure the success of this relationship (or, incidentally, cause its demise). Either his kids will come around or they won't, and either my boyfriend and I will be able to move through all of it together or we won't.
And when I realize that I'm not actually powerful enough to make this go one way or another—that all I can do is show up every day and do the best I can—it's actually an incredible relief.
If you enjoyed this article, head on over to like our Facebook Page, It's Personal, an all-inclusive space to discuss marriage, divorce, sex, dating, and friendship.
This article was originally published on