15 Reasons Gulf Shores, Alabama Is A Winner In The Battle Of The Beaches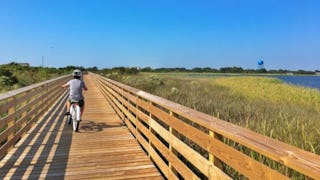 Lindsay Ferrier
If you're like me, you're always looking for the perfect beach for your next spring or summer vacation — something family-friendly and affordable, with a gorgeous coastline and lots of fun things to do. Gulf Shores, Alabama totally fits the bill.
Just a few miles from the Florida/Alabama state line, Gulf Shores and neighboring Orange Beach border the calm, clear Gulf of Mexico. Families love these white sand beaches for their laid-back atmosphere and noticeable lack of beer-guzzling college kids. While there are plenty of restaurants and activities in the area, the 6500-acre Gulf State Park between the two beaches helps to give the area a more peaceful and outdoorsy vibe than other beach towns.
Where To Stay
One thing I love about Gulf Shores is that it has truly excellent lodging options for every taste and budget, whether you're a camping enthusiast or luxury traveler. If you're looking for a beachfront condo rental, The Beach Club is a popular option. Rent a condo for a week here and enjoy all the perks of a resort hotel, including six swimming pools, complimentary bike rentals, two restaurants, a spa, and a market. A 2-bedroom condominium costs about $175 per night in the off-season and $350 per night in the high season.
For camping and RV enthusiasts, Gulf State Park has 496 full hook-up campsites and 11 primitive sites. Tents are welcome on all sites. With the park's pristine beaches and miles of bike trails, I honestly can't imagine a better place to camp, particularly in spring and fall when the weather's not too hot. The park also offers cabins and cottages and a beachfront hotel is currently under construction. We are looking very forward to checking it out when it's complete!
Another popular and affordable option is the Hampton Inn & Suites Orange Beach. Guests love this beachfront hotel, which includes free breakfast and Internet and a fitness center.
You can find a full list of lodging options, including rates and availability, at the official Gulf Shores and Orange Beach website.
What to Do
We loved renting bicycles from Beach Bike Rentals in Orange Beach and riding on the miles of trails within Gulf State Park. Beach Bike Rentals has gorgeous new Electra Lux Cruiser bikes that are reasonably priced and a HUGE step up from ordinary bike rentals. The shop is located right next door to the park entrance.
A Beach Bike employee will give you a map of the trails and explain all the points of interest along the path, which include a nature center, butterfly garden, alligator marsh, ice cream and Kona ice stands, and a whole lot more. A restaurant will be opening inside the park in 2018, which would make a nice rest stop during a day of riding.
Once you've returned your bikes, stop in The Soda Pop Shop next door and knock back a cold one. Our kids had fun choosing from the 77 varieties of bottled sodas.
The Alabama Gulf Coast Zoo is small but mighty, with more than 500 exotic animals and ticket prices that won't break your budget. You'll see lions and tigers and bears here (Oh my!), but the real magic happens during the animal encounters, which allow visitors to hold and pet lemurs, kangaroos, sloths and more. My kids were totally psyched about their lemur encounter and can't wait to go back to hold the sloths.
Of course, you'll need family pictures to post on Facebook so that everyone knows you're #TeamGulfShores. Take a tip from me and head to Alabama Point East at sunset for your family photos. This public beach is located on Perdido Pass in Orange Beach and it is absolutely beautiful, with more photographic points of interest than an ordinary beach. Here, you'll find large stones, crashing waves, sand dunes, and near 360-degree views of the Gulf.
Just a few minutes from the beach in nearby Foley, a gleaming new amusement park is drawing in thrill-seekers by the thousands. The Park at OWA has 22 rides (including two roller coasters!) with enough variety to keep everyone happy, from toddlers to teens.
Try and make time for a stroll at the Bon Secour National Wildlife Refuge, established in 1980 as an important stopover point for migratory songbirds and a habitat for endangered species like sea turtles and the adorable Alabama Beach Mouse. Stop first at the refuge center to check out free discovery backpacks, then hike one of four family-friendly trails.
You'll be praying for a rainy day when you hear about your shopping options in Gulf Shores. A massive Tanger Outlet has all your favorite brand-name everything at discounted prices, while The Wharf is basically the area's Rodeo Drive, with restaurants, upscale shopping, and a gigantic Ferris Wheel offering panoramic views of the Gulf.
Where To Eat
If you want to see and be seen in Gulf Shores, Lulu's, owned by Jimmy Buffet's sister Lucy, is the place to have a meal. The wait might be long at this hotspot, but not to worry. The vast property is essentially a beach-themed entertainment complex, filled with bars, shops, live music, an arcade, and plenty of trucked-in sand for kids of all ages to enjoy. Be sure and order a Bushwhacker while you wait — Lulu's version includes vanilla ice cream and Southern Living claims it's the best in the South.
The three-story Mountain of Youth will keep your more energetic kids entertained while you wait for a table. For younger ones, there's Munchkin Mountain — a climbing apparatus just a few feet off the ground.
Built on the beach out of old shipping containers, The Gulf gets my vote for coolest restaurant in town. Go for lunch and enjoy gorgeous views of the gulf while you wait in line to order your food. Yes, the line can be long, but trust me, it's totally worth the wait.
Choose from super-fresh shrimp or mahi-mahi tacos, burgers and grouper sandwiches, chips and guacamole, and more — and be aware that The Gulf's french fries are heavenly.
Don't be fooled by its shabby interior — locals know The Diner is a guaranteed great meal at a reasonable price. This is a great place to come for breakfast, lunch or dinner when you're looking to save a little money and you don't want to wait to be seated.
My reuben sandwich was loaded with flavorful corned beef and sauerkraut and my husband's burger was expertly cooked, with a soft, sweet bun that made the whole thing even better. My son's $5 kids burger and fries plate was big enough for an adult to enjoy. But the real showstopper was dessert — Deb's Coconut Cake put a tres leches-like twist on this sweet southern staple, and it was absolutely out of this world.
After a week spent wrangling kids on the beach, treat yourself to an epic Bloody Mary at Brick & Spoon in Orange Beach. Build your Bloody Mary from a menu of options and don't skip the regular menu here, either. It's been named one of the top 10 breakfasts in America by Travel + Leisure.
And if you're looking for a big night out with the family or a fancy date night away from the kids, you can't go wrong at Louisiana Lagniappe. We had one of the best meals of our lives at this New Orleans-style seafood restaurant. Take an insider tip from me and order the Grouper in Parchment — it's never on the menu, but they serve it every night and it's absolutely divine. Everything we had here was wonderful, from the twice-baked potato to the cheese grits to the corn and crab bisque. My mouth is watering just thinking about it!
There's lots more to discover in Gulf Shores and Orange Beach, but this list should get you started on what could be the best beach vacation you've ever had. And if you end up winning your next Beach Battle because of this post, well, my work here is done.
This article was originally published on