Schools Across The Country Are Threatening To Suspend Student Protestors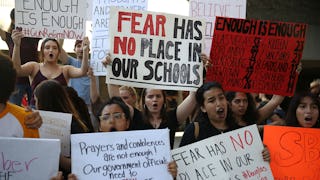 Image via Joe Raedle/Getty
Schools are threatening students with discipline over protests
There's currently a powerful movement happening around gun control — and it's all thanks to a group of fiercely outspoken teens. Following the tragic Florida school shooting that claimed 17 lives, many students are taking control of the conversation and fighting hard for actual, substantial change. Unfortunately, some schools are not totally on-board with this. As in, administrators are actually threatening their students with disciplinary action if they participate in protests during school hours.
Superintendent Curtis Rhodes, who oversees a Texas school district, sent out a letter to parents and published a (since deleted) Facebook post that warned students about the repercussions of protesting during class time.
"Please be advised that the Needville ISD will not allow a student demonstration during school hours for any type of protest or awareness!!" Rhodes wrote. "Should students choose to do so, they will be suspended from school for 3 days and face all the consequences that come along with an out of school suspension."
He added that school is a place to grow "educationally, emotionally and morally" and that students should "respect" themselves and their fellow students. He also noted that life is about choices, and that every "every choice has a consequence whether it be positive or negative."
Cool, thanks for the lecture. If this is all ringing very totalitarian to you — you're not too far off base.
"It's a quintessential First Amendment violation, and most Americans have an instinct about that," Heidi Li Feldman, a professor at Georgetown Law, told The Washington Post. "What's really weird about this is that they announced they will suspend people over the content of their off-campus protest. Content-based restrictions on speech are anathema to the First Amendment. So this looks like a total problem."
Suffice to say, people were pretty pissed.
https://twitter.com/jetpack/status/966403600787410944
Unfortunately, this Texas school district isn't the only one cracking down on their students protesting. Steven Walts, a superintendent in Virginia, sent a letter to parents with a pretty similar message.
"PWCS recognizes your right to free speech and to protest, but these rights do not extend to disrupting classes or to leaving school," he wrote. "Students who cause disruptions or leave school without authorization will face disciplinary consequences, in keeping with the PWCS Code of Behavior."
Hmmmm. Just gonna go ahead and say that students who want to take part in peaceful protests should probably not face disciplinary action. It's actually — if I might borrow Superintendent Curtis Rhodes' words — the educationally, emotionally, and morally right thing to do.