Over 200 People Were Killed By Gun Violence In The U.S. Last Weekend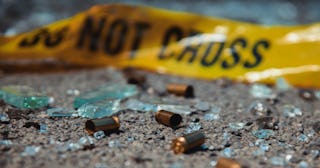 D-Keine/Getty Images
We are no longer only hearing foreboding comments about gun violence being a problem, or on the rise, or that we need to do something. Gun violence isn't just on the rise — it is an epidemic. And don't think that you can simply escape it by living in a nice neighborhood away from the "dangerous city." I live in the suburbs. My husband was shot picking our kids up from school on a Monday afternoon. It is everywhere. And something has got to change.
Take a look at what happened over the 4th of July holiday — according to CNN, more than 230 deaths by gun violence in the U.S. It's not just out of control; it's terrifying. The Chicago Sun Times is reporting the holiday weekend to have been the most violent of 2021. There were 104 shot, 19 fatally, including 13 children. Kids. These guns are injuring, and sometimes killing our children.
In St. Louis, ranked as the second most dangerous city in the US in 2020, four children were shot in a span of 10 hours over the holiday weekend. That brings the city's total to 52 children, 17 years and younger, shot in 2021. In Norfolk, VA four children under 17 were shot by a 15-year-old attacker, but thankfully survived. Kids getting their hands on guns? The madness has got to stop!
In addition to fatal shootings in big cities, a quiet country club golf course was the scene of a vicious attack on golf pro Gene Siller. His body was found near the 10th hole of the Pine Tree Golf Course in Kennesaw, GA. According to reports, he questioned a driver after his truck was driven on the green. He was shot, the shooter fled, but his truck was recovered and the bodies of two other men were found in the bed of the truck. No motive has been established, and the shooter has not been located.
This is just a small example of what is going on in our country. And it doesn't seem to be slowing down. If you look at the Gun Violence Archive, which compiles statistics daily in the United States, as of July 7, there have been 20,466 deaths due to gunshots in 2021. Nearly 25,000 dead — and yet our gun laws remain lenient, sometimes nonexistent, and the weapons remain on the street.
According to the Washington Post, "Before 2020, gun-sales spikes coincided with elections and mass shootings, such as the massacre at Sandy Hook Elementary School in late 2012. Last year, the numbers climbed during pandemic-induced shutdowns and again in the summer, with millions protesting a Minneapolis police officer's murder of George Floyd."
Not surprisingly, the increase in gun purchases has produced an increase in gun-related incidents. The GVA reported 20,000 deaths by gun violence and another 24,000 deaths by suicide in 2020, the highest totals in two decades. Sadly, we are on schedule to outpace those numbers in 2021.
Experts believe that we are still living in tumultuous times due to COVID and the uncertainty of what our future holds. Many are still without jobs; they have lost loved ones, and are unsure about their health and well being. "We're fearful of what this summer is going to look like," Paul Carrillo, Community Violence Initiative Director at the Giffords Law Center told TIME. "I'm fearful that people are still going to be carrying some of the anger and despair that we've all dealt with this past year."
He believes that with people leaving their homes and becoming more social, conflicts will arise. This is particularly worrisome among young people who used social media as a way to handle conflicts during the pandemic and will now be face-to-face. This can lead to particularly frightening encounters if weapons are involved.
So what do we do? How do we stop this? The Biden-Harris Administration is committed to quelling the violence and getting guns off of our streets. In April, the White House issued its six initial steps to address the issue, which has reached epidemic levels. It included the following:
A proposed rule by the Justice Department, to stop the spread of "ghost guns" in our communities. Criminals are receiving all of the tools that they need to craft a firearm in as little as 30 minutes. Due to the fact that they are basically homemade and unregistered, they are difficult to trace when found at a crime scene. It is the goal to end the proliferation of these firearms.
The Justice Department proposed a rule to clearly identify a stabilizing brace based on requirements of the National Firearms Act. This can turn a pistol into a shot-barreled rifle simply and easily.
States will be introduced to "red flag" legislation. This effectively allows family and law enforcement to bar those in crisis from access to firearms. This can happen if the individual presents a danger to themselves or others. President Biden is encouraging congress to pass a red flag law.
The Administration is making use of community violence interventions. They want to invest in our communities, which has proven to reduce crime in urban areas, using tools other than incarceration to help stop the violence.
There will be a new report investigating firearms tracking. More than 20 years ago, the Bureau of Alcohol, Tobacco, and Firearms issued a report that detailed how weapons were being illegally trafficked into our communities. This report will be updated with information about current trafficking channels to aid policymakers in their quest for legislation.
David Chipman was nominated to serve as the director of the ATF. The bureau is in need of a leader and has not had a confirmed director since 2015.
There is so much to be grateful for in the Biden-Harris Administration. They are taking the gun violence issue seriously and we hope that they can effectively implement these strategies to help end this horrible problem in America. It is our responsibility to continue to lobby for stricter laws, to effectively get these weapons out of the hands of criminals who will use them. Nowhere is safe from gun violence, and we must remain vigilant — not only to protect ourselves, but our children's future.