This Guy Annoying His Girlfriend With IKEA Puns Is Your New Favorite Person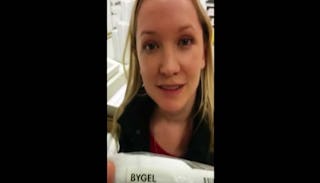 Simon Gilmore has become a quick internet sensation, thanks to a trip to IKEA and a very tolerant girlfriend.
Did I mention he's hilarious?
Well, getting through the store — with its endless maze and impulse buys – is no walk in the park, either. This poor girl. If I wasn't so busy laughing, I'd be commending her patience. You know she's thinking, "pick up a damn tiny pencil and help me find the right armoire, you asshole."
Simon Gilmore admits on his YouTube page that he and his girlfriend Dana just moved in together a few weeks prior to filming this. He must be really secure with their relationship. She looks close to violence several times in the video — and who can blame her.
This is a nightmare scenario for the girlfriend, but a damn treat for the rest of us. I can't remember the last time I laughed this hard. I can't even pronounce half of the items in IKEA, let alone form sentences with them.
Well done, Simon.
This article was originally published on