Here's The Guy Fieri Swimsuit Literally No One Asked For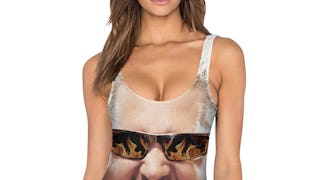 Image via Beloved Wear
Once seen, the Guy Fieri one-piece cannot be unseen
It may be mid-July, but summer is just now getting started due to the discovery of the latest "ugly swimsuit" to join this year's trend of weird, hairy articles of clothing. Now you too can have a summer full of "peace, love, and taco grease" thanks to this Guy Fieri swimsuit. Which basically is just his giant face in all its bleached-hair glory slapped onto a classic one-piece.
Speaking of bleached hair, OMG you might want to have a seat before you notice the goatee placement.
We are dying. DYING. DYE-ING.
Beloved Shirts, the company behind the man-chest swimsuit and the one featuring Donald Trump's mug has created yet another "Oh God, why" swimsuit with everyone's favorite Food Network personality plastered on it. In other words, this swimsuit is truly "out of bounds."
Donning this bathing suit actually allows you to use "two tickets to Flavor Town" as currency to get into your favorite local pool. Similarly, if you show up to your next summer barbecue wearing this suit, you are guaranteed one "Holy moly, stromboli" from whatever weird uncle of yours takes their weekend naps with Diners, Drive-Ins, and Dives playing softly in the background.
Suits like these are perfect if you're looking to adopt an IDGAF attitude about swimwear. It's the bathing suit version of poking fun at yourself before someone else can. It's the kind of suit that lets other moms know they want–nay, need–to be friends with you.
Basically, this swimsuit is "money." We have a feeling Guy Fieri himself would love it so much, he'd give it a thumbs up and ride it around in his red convertible while eating a massive pulled pork sandwich.