Gwen Stefani Is 50 And We'll Have What She's Having
by Valerie Williams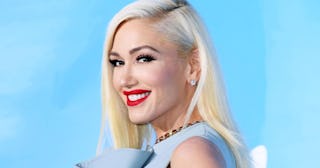 Daniele Venturelli/Getty
Gwen Stefani just hit her 50th birthday and somehow looks 25
Somehow, Gwen Stefani is now 50 years old. Yup, today is her birthday, and if you're now muttering the lyrics to "Don't Speak" and thinking about how that was approximately 10 minutes ago, you're not alone — we're shooketh to the core that our very own Hollaback Girl is 50 because she literally looks about half that age and we want to know her secrets.
Seriously. EXPLAIN YOURSELF GWEN.
https://www.instagram.com/p/B3KJzCqB9kM/
Honestly, just… how rude.
We feel personally attacked.
She routinely shares photos on her Instagram account to announce upcoming dates on her Vegas residency and honestly, we can barely tell the difference between then and now.
Live footage of us trying to figure out how on earth Gwen Stefani is 50 freaking years old.
Seriously. HOW.
Of course, we're not the only ones in awe of this talented beauty. Boyfriend (and fellow The Voice host) Blake Shelton took to Twitter to shout out the pop star on her special day:
"I love you so much it's actually stupid… And possibly illegal in the state of California," he quips. Look at how cute they are.
Look at how absolutely NOT 50 she always looks.
They're basically perfect but enough of that, we're still totally stuck on the fact that she's 50. Did Gwen and JLo (who also turned the big 5-0 this year) get together back in like, 1999 and travel to some actual fountain of youth? Because how are two women born in 1969 looking like they belong in a college dorm? It defies all logic TBH. I am "only" 37 and can barely stay awake past 9pm let alone look like I'm possibly unable to buy my own White Claws.
When Stefani's not just out there looking unfairly youthful, she's still performing and kicking ass, like she has on her Vegas residency since last summer and with Pink during a surprise appearance on her tour last year. Of course, Pink is just as much in awe of this incredible woman as we are, captioning a snap of them singing together with the sweetest words.
"Y'all don't even understand how much love I have for this chick, this rocker, this mama, this entrepreneur, this total OG badass that is @gwenstefani there really aren't any comparisons as far as I'm concerned. Tonight was fun. Thanks friend."
Does it make anyone else's hearts explode seeing our favorite 90s and early 2000s female performers still completely slaying? It's almost like we're also never growing older. Except we are. Dammit.
This article was originally published on