The Photos From Gwen Stefani & Blake Shelton's Wedding Are Stunning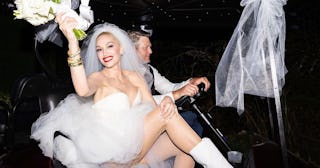 Jeremy Bustos/Instagram
Blake Shelton and Gwen Stefani share photos online from their intimate July 3rd, 2021 wedding
When I heard that Gwen Stefani and Blake Shelton were dating years ago, I thought they made a pretty cute "opposites attract" couple. She's glam and a little rock 'n roll, he's rugged and country, and despite their very specific ~personal brands~ the two tied the knot at his gorgeous 1,200-acre Oklahoma ranch over the July 4th holiday and the whole affair was surprisingly classic and traditional. One peek at these wedding photos and it's clear that this affair was the epitome of a beautiful, timeless, white wedding.
Photographer Jeremy Bustos captured the entire affair, from their first dance —
— to their classic five-layer wedding cake.
Okay, to be fair, the wedding wasn't entirely traditional, because Shelton was wearing jeans the whole night, and we have to stan a relaxed King.
For her part, People reports that Gwen wore a custom Vera Wang Haute silk georgette gown with a sweetheart plunging neckline. She later switched out to a short "party dress" and country-inspired heels. The mag also reports that Gwen's veil included a pair of hand-sewn love birds and three baby love birds representing her children. The veil included the hand-embroidered names of the couple and their kids.
Though we've heard about this upcoming wedding for a while, Gwen confirmed that they actually tied the knot on July 3, 2021, by posting a boomerang on Instagram. Though it's funny because Gwen actually told Extra last summer (before they were even engaged) that people constantly referred to Blake as her husband, anyway. "Do you know how many people say my 'husband' about him?" she said. "I guess we're just together."
Their friend and coworker, The Voice host Carson Daly, served as officiant and I guess the happy couple didn't mind that their wedding day felt a little like a typical day at work!
Blake and Gwen met on the set of The Voice in 2015 and got engaged in October 2020. Gwen was previously married to Gavin Rossdale, with whom she shares three sons, Kingston, 15, Zuma, 12, and Apollo, 7. Blake was previously married to Kaynette Williams and then country icon Miranda Lambert.
The night before the wedding, they held a casual rehearsal dinner at Blake's restaurant Ole Red, in Tishomingo, Oklahoma, and according to a source, "They looked really happy together and definitely in love."
The wedding venue is also their home, which is where the couple had been residing with Gwen's kids for most of the pandemic. Their home even has a chapel on the property, which is where Blake and Gwen said "I Do."
Congratulations to the happy couple, here's to years and years of wedded bliss.