Gwendoline Christie Hit The Emmys Red Carpet And We Are Not Worthy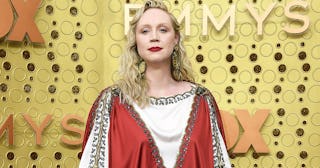 Frazer Harrison/ Getty
Gwendoline Christie is bringing all the FIRE
If you've managed to miss what an absolute badass Gwendoline Christie is, it's okay, because she'll never stop giving you reasons to learn. First, she's the epic badass knight Brienne of motherfucking Tarth who could kick anyone's ass on Game of Thrones. But her on-screen character — as amazing as she is — can barely hold a candle to her real-life being. She's that amazing.
Gwendoline Christie is a QUEEN. And lest you forget, here's what she just strolled onto the 2019 Emmys red carpet (okay, it's a purple carpet now) wearing:
And in case you forgot her Emmys origin story, HBO didn't nominate her, so she NOMINATED HERSELF.
SHE NOMINATED HERSELF. And she got that nomination. She's officially up for a Best Supporting Actress in a Drama Series award. I've never been so invested in someone winning an Emmy in my life.
Look. At. Her.
Her face pretty much says it all. "I'm regal, bitch. Deal with it." We're all about ready for her to walk on water — especially Twitter.
This isn't the first time she's absolutely killed a red carpet. For the GOT's last season premiere, she rocked this number:
Honestly, no one can top this woman. We'll wait and see – but it will be hard.