Gwyneth Paltrow And Her Husband Don't Live Together And TBH, Their Reasons Make Sense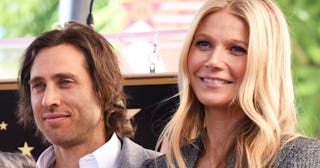 ROBYN BECK/AFP/Getty
Gwyneth Paltrow explained why she and husband Brad Falchuk only live together four nights a week
Many years ago when Gwyneth Paltrow and Chris Martin "consciously uncoupled," the internet quietly snickered at the new agey-ness of it all, but her latest unorthodox relationship news is actually pretty interesting. Paltrow recently admitted that she and husband Brad Falchuk only live together part-time, which they say is the key to their marriage's success.
In a new interview with the Sunday Times, Paltrow said that they both have separate houses and only stay together four nights out of the week. Falchuk stays at his own home when his teenage kids (Brody and Isabella) from a previous relationship are with him, plus Paltrow's "intimacy coach" said this arrangement inspires "polarity," which helps keep their relationship "fresh."
"Oh, all my married friends say that the way we live sounds ideal and we shouldn't change a thing," Paltrow told the publication.
Having two homes is something only the very financially privileged can afford to do, but this "polarity" that her intimacy coach speaks of doesn't sound too bad at all. We've heard of romantic partners having separate bedrooms, of men having "man caves," so maybe Paltrow's situation is just a more heightened version of a "room of one's own," so to speak.
Also, Paltrow mentioned in a 2018 interview with the Wall Street Journal that the main reason they've kept their separate residences is that they both have teenage children and didn't want to uproot their kid's lives by forcing them to co-habitate with their new siblings.
"We are still doing it in our own way," Paltrow explained at the time. "With teenage kids, you've got to tread lightly. It's pretty intense, the teenage thing."
Paltrow also admitted in the new Times interview that co-parenting Falchuk's kids along with her own two teenagers — Apple and Moses — hasn't been smooth sailing and even joked that she has "no idea" if she's a good step-mom.
"Sometimes that piece gets complicated when there are two teenage girls," Paltrow said. "If you're not all drinking the same Kool-Aid, it can be tough. I do think, though, at the end of the day, everyone wants the same thing, which is to feel love and be accepted."
"My stepson, for example, had a rough beginning with it all, but now he and I have our own space together," Paltrow added. "I'm not his mother, he's not my son, but he knows he is very special to me."
Paltrow married American Horror Story producer Falchuk on Septemeber 29, 2018 in an intimate wedding at Paltrow's East Hampton home. The couple met in 2010 when Paltrow guest-starred on Glee but didn't start dating until 2014 after Paltrow famously split from ex-husband Chris Martin. The newlyweds honeymooned with both sets of kids and Martin, so it looks like whatever family arrangement they've got going on totally works for them.