Gwyneth Paltrow: 'Young Girls Are Getting The Message They Have to Be F*ckable'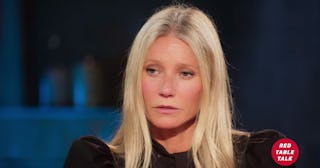 Red Table Talk/Facebook
Paltrow joined Jada Pinkett-Smith and Adrienne Banfield-Norris at the now-legendary table
As part of the promotion for her new Netflix series, Sex, Love & Goop, Gwyneth Paltrow stopped by the Red Table to discuss all things wellness. During the segment, Paltrow joined Jada Pinkett-Smith and Adrienne Banfield-Norris at the now-legendary table (Willow Smith was prepping for a concert and joined the trio briefly via Zoom.
As the three talked about sexuality and identity, Banfield-Noriss mentioned how porn can give young people the wrong idea about sex. "Do you know how confused we are by porn?" she asked.
"The woman's pleasure it's not even thought about [in porn]," agreed Pinkett-Smith.
Due to the imagery surrounding porn, Paltrow explained, "Young girls are getting the message that they have to be fuckable. Like that's the number one priority. It's so awful and it's doing a disservice."
"You see it on Instagram," she says. "What is this pose? What is that? And it's because that's what they think is the metric of success, right? Like, someone wants to fuck me."
Pinkett-Smith asked how Paltrow helped her daughter navigate the internet landscape.
"We didn't grow up with it," Paltrow said. "We grew up going to Blockbuster on Friday night. They'll have more context [about living in an online world]. So all I've tried to do is focus on who are the human beings I'm raising? What can I do in the house to counteract as much of this as possible? How do you raise a girl that feels good about who she is? Like, what is the messaging?"
Paltrow also shared how she's trying start a conversation about women's wellness.
"We didn't have all this openness in the culture," she said. "There wasn't a lot of talk about it, and it was pre-internet. I don't think we went naturally to our mothers."
As for how to prepare young girls for what they may feel during their during their first sexual encounter, Banfield-Norris admitted that she told Jada that it was not going to be enjoyable
Willow interjected, "I don't think you should tell someone it's going to be hurtful," the "Whip My Hair" singer told the panel. "Like, it might not."
Paltrow notes, "Like I remember when my kids were really little, having the urge to wanna say to them like, 'Oh no, did that hurt?' And you have to catch yourself. Let's not implant any ideas around anything."
Props to Gwyneth and Red Table Talk for their openness in topics that many folks still find difficult to talk about.