Gwyneth Paltrow Shares 'Sweet' Thing Her Son Said About GOOP Vibrator
by Erica Gerald Mason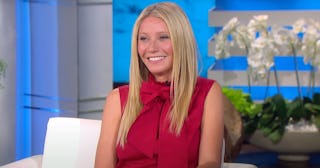 TheEllenShow/Youtube
The star had a big picture view of the sexual wellness line at Goop
Teens are fascinated by sex. That's a fact, like the sun rises in the east and sets in the west. Teens are mortified about the idea of their parents or other caregivers having sex. That's also a fact, like baby cats are called kittens, and that a 13-year-old pug named Noodle is, indeed, the great oracle of our time.
Recently, Ellen Degeneres brought out one of the vibrators sold on Gwyneth Paltrow's Goop website.
"Can you show that on TV?" Paltrow asked, prompting DeGeneres to wave it quickly one more time.
DeGeneres asked how Paltrow's teen son Moses, whom she parents with ex-husband and Coldplay frontman Chris Martin, "feels about things like this that you're selling."
The proud mum replied that she had a moment with her son that she called "the sweetest thing":
"A few months ago, he said, 'Mom, I was really embarrassed for a minute that Goop sold vibrators and then I realized like no, this is great. You're making people feel not embarrassed to buy something and that's great. You're a feminist.'"
Paltrow said she thanked Moses for his progressive view.
"I"m sure he's still embarrassed, but at least he's putting a good spin on it," she said.
Ellen agreed, noting that Moses' response was very mature for his age. Our kids always surprise us, don't they? Something which Paltrow can surely relate. Earlier in the segment, Paltrow talked about how her teen son feels about seeing her clothing. "He doesn't even want to see a bra strap," she laughed. "He's like, 'no'."
Paltrow's Goop lives in the women's wellness and lifestyle space, while selling cheekily-named products like candles called "This Smells Like My Vagina" and "This Smells Like My Orgasm," and "DTF," a supplement designed to help raise women's libido. Goop also posts a now-legendary holiday catalog that is as aspirational and as glitzy as you would expect.
Women's health is world health, so here's to Goop for opening up the dialogue about a subject most people consider taboo.