Jordan Chiles' Mom Gets Delay In Prison Sentence To Support Her During Olympics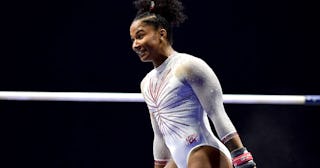 Emilee Chinn/Getty
In a bit of good news, a federal judge approved the delay so the proud mama can cheer on Chiles
This is what we're talking about. Often, people assume when advocates of criminal justice speak of fairness under the law, they mean the same harsh penalties should be handed out to everyone. Nope. What the advocates really mean, is that sometimes, the justice system needs to give defendants the benefit of the doubt. Something people of color don't always get in the courts. However, this time it seems the system is willing to work with the accused: Jordan Chiles' mama will get to support the gymnast as she represents Team U.S.A. at the upcoming Tokyo Olympics.
As a result of Jordan Chiles' participation in the summer games from July 23 to August 8, a federal judge in Portland delayed the start of her mother's prison sentence by 30 days. The ruling no doubt eases the competitor's mind as she heads onto the world's stage to compete.
People magazine reports Gina's attorneys asked the court to allow her to self-surrender on Aug. 26, to give Jordan "some additional time to have her mother's emotional support and guidance during such a monumental time her young life."
The prosecution did not object to the motion, according to court documents.
Previously, Gina admitted to stealing from clients and spending hundreds of thousands of dollars on personal expenses through the commercial properties management business she owned, Inspire Vision Property Management LLC. She was sentenced to one year and one day in federal prison for the crime, and when she gets out, she will have to repay what she stole.
The original plan was for her to report to federal prison on July 27 – the same day the women's gymnastics team might compete if they qualify for the final.
The gymnast's mother spoke to Hoda on Today about watching her daughter's accomplishments during a difficult time for their family. As part of her appearance on the show with the other moms of the women's gymnastics team, Gina explained to Hoda Kotb that every moment she watches her daughter Jordan is the most amazing moment. "And so I just am looking at it as not bittersweet, but just sweet, period, that she's here."
While Gina won't have to turn herself in until after the games, she won't be able to travel to Tokyo to watch her daughter compete.
Due to coronavirus restrictions and to help prevent the spread of the virus, no family members or fans are allowed to attend the Olympic competitions in Tokyo.
Gina will, however, be able to live stream the event from her home and support her daughter through phone and/or video calls.