10 Gymnastics Coloring Pages That'll Have Your Little Ones Doing Somersaults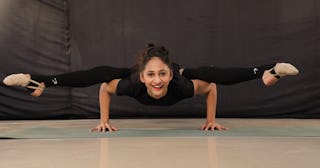 Gyan Shahane/Unsplash
Gymnastics is a wonderful sport to watch and always a favorite at the Olympics. It's hard not to cheer on athletes like Simone Biles, who proves how powerful women are every time she nails a routine. Men's gymnastics is also an exciting sport, requiring a ton of physical strength. Gymnastics coloring pages might not require as much skill as the pommel horse or uneven bars, but they're a lot of fun to color while watching the pros show their stuff.
Gymnastics coloring pages are also a great way to entertain kids who may be interested in pursuing the sport itself. An estimated 3.6 percent of U.S. children between the ages of six to 12 participate in some type of gymnastics program regularly. Some children start training as young as two years old, although coaches suggest it's better to wait until your little tumbler is around five or six before enrolling them in any serious gymnastics program.
But even if your child chooses not to make the gymnastics mat part of their everyday life, they'll still enjoy bringing these free gymnastics-themed printables to life. After all, not everyone can be a gymnast, but everyone can express themselves through colors and art. Bonus? You can bounce from these pages right into our football coloring pages, hockey coloring pages, baseball (and softball!) coloring pages, soccer coloring pages, and basketball coloring pages.
Free Printable Gymnastics Coloring Pages
Gymnastics Page No. 1
Doesn't this young gymnast look free? Sure, it may be more challenging when you pull a move like this off in person, but this page just makes the bars look so easy.
Gymnastics Page No. 2
It's always important to warm up before a big floor presentation, and this athlete is doing just that. You can create a great background to showcase where she is. Maybe she's getting ready to hit the mat at the Olympics, or perhaps she's just doing some stretches in her bedroom. This is also a pretty good pose for anyone who's getting into yoga. It's always beneficial to work on your flexibility.
Gymnastics Page No. 3
Chances are, you may have had your own ribbon like this growing up. (Or if not, you recalled the episode of Lizzie McGuire where she became a rhythmic gymnast. It was definitely a classic.) You can try either bold or soft colors for the ribbon itself. Rooting for Team USA? Then maybe red, white, and blue would be perfect. And speaking of American talent, did you know the first woman to win the World Gymnastics Competition was Marcia Frederick? (Who run the world? Girls!)
Gymnastics Page No. 4
Rhythmic gymnasts also sometimes use hoops for their performances, offering a chance for them to show off even more grace. See if you can match the hoop and the young athlete's uniform since it looks like they're right in the midst of their routine.
Gymnastics Page No. 5
How can you do your backbends without stretching first? This young athlete could either be gearing up for the balance beam or perhaps a stroll around the block. This image is fun since it may very well transport you back to the '80s when sweatbands for your forehead were all the rage.
Gymnastics Page No. 6
It's speculated that rings have been an integral part of Olympic gymnastics since 1896, so this gymnastics coloring page is a great way to pay tribute. You can make this gymnast a superhero by using bold reds and blues for his uniform. Although if you were coloring this page according to history, the gymnast might not have a uniform at all. That's right — gymnastics was originally a sport performed in the nude. The first competitors in Athens, Greece, competed without any clothes on, which makes sense since the word "gymno" literally means naked.
Gymnastics Page No. 7
The pommel horse is also seen very often in gymnastics performances. They're typically covered with leather, so an off-white, yellow, or brown color would make this pop if you're looking to make this image more realistic.
Gymnastics Page No. 8
Backbends are considered a fundamental skill in gymnastics, especially for floor exercises — you need to master this pose to do a front walkover, back walkover, and back handspring. But, really, a pose like this should be everyone's goal with flexibility!
Gymnastics Page No. 9
If you give this gymnastics coloring page to a young child, they may feel the need to buy their own rhythmic gymnastics ribbon. It's not the worst purchase to make, especially if you show your child a few historic performances before they get to coloring. Younger children may be more drawn to this page since the ribbon simply looks magical.
Gymnastics Page No. 10
Finally, there's the balance beam — one of the most jaw-dropping events of the Olympics. Being able to stay balanced and steady, even while tumbling, is a skill that not too many of us have. But it's fun to watch the professionals at work. And speaking of the pros, did you know that out of the 555 Olympians in the Rio competition, Simone Biles was the shortest athlete? She is four feet and nine inches.
Click here to print all of the gymnastics coloring pages at once!
This article was originally published on