H.E.R. Absolutely Transformed 'America The Beautiful' In Her Super Bowl Performance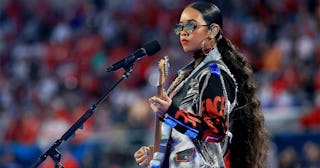 Mike Ehrmann/Getty
When will H.E.R.'s version of "America the Beautiful" be on Spotify? Asking for myself
As usual, this year's Super Bowl featured an absolutely stacked list of performers and pop culture moments. Even though just about everything about this year's big game, amid the ongoing coronavirus pandemic, was different, producers still managed to create the kind of spectacle we count on the Super Bowl to provide. And at no time was that more evident than when H.E.R. took to the field to perform "America the Beautiful."
H.E.R., a multi-Grammy winner and all-around badass, was the perfect person to take on the challenge of this particular performance. It's kind of hard to put into words, so here — just watch for yourself.
This is a moment in America when a lot of people — BIPOC people in particular — might not think this place is all too beautiful. But hearing the way H.E.R. performed the song gave us something that feels strangely like… hope? Obviously, it's going to take more than one incredible Black woman singing a song about how great America is to erase generations of systematic trauma, but a performance that moving is a reminder that there are still beautiful things out there that can bring us all together. Fans definitely took note.
There were calls for H.E.R.'s version of the song to be our new national anthem, and honestly? It's probably a better choice than the one we have now.
But mostly, people just realized that H.E.R. took the song, made it all her own, and then absolutely slayed it with that beautiful voice she's known for.
As one Twitter user pointed out, she might have even gotten the objectively worst song in the Super Bowl lineup to work with, and she did that with it.
Obviously we stan.
This year's Super Bowl was packed with talented BIPOC performers, including Amanda Gorman, the poet who performed at Joe Biden's inauguration, who became the first poet ever to perform at the Super Bowl when she read a poem honoring essential workers during the pandemic. And The Weeknd obviously killed his halftime performance. We knew he would deliver, and then he absolutely did. For once, this year, the highlight of the big game might have been the performers, rather than the commercials.
So now we just have one question for H.E.R.: Where can we buy and/or stream that version of "America the Beautiful?" We need it, ASAP.
This article was originally published on