These Hairy Men Dressed As Fairies Will Make You Believe We Got Tinkerbell All Wrong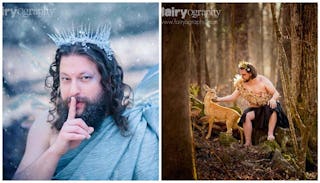 Men dress up as "hairy godmothers" as an April Fool's Day prank
Heather Larkin normally photographs little girls in mystical settings, turning them into the fairies of their dreams. But for April Fool's day she decided to revamp her image a little and turn her website "Fairyography" into "Hairyography."
Needless to say, the results were amazing.
"Fairyography is now Hairyography! No more little girls' photo sessions, now it's only for hairy guys! Come get your glitter and wings on, be the hairiest fabulous fairy out there! I know that you mustache some questions, but no need to mullet over too much. Comb on over where you can curl up and be hairy important!"
Who doesn't love a good pun? And after seeing these amazing photos you'll wonder why Disney never incorporated a hairy man fairy. Move over, Tinkerbell. These dudes are incredible.
"The guys are all local friends or friends of friends here, because I only ended up with about two weeks to shoot," Larkin told Scary Mommy. "I might make it a yearly thing and turn it into a charity fundraiser somehow!" Larkin holds a contest once a year open to families with children with special needs or illnesses. She treats the winners to one of her magical photoshoots, where the children can momentarily transform into mystical princesses or fairies. So she's got a great eye, a good sense of humor, and a huge heart.
Kind of makes you love the images even more.
Yes, photoshop exists, but don't you want to believe he's really stroking a deer? I sort of do, actually.
Does everyone detect a new trend on the horizon?
"I certainly felt special, and pampered. Being the center of attention was a nice change of pace," one of the models told Today. "It wasn't about being pretty as much as being majestic."
Indeed.