F*ck It, We're Having A Half-A** Holiday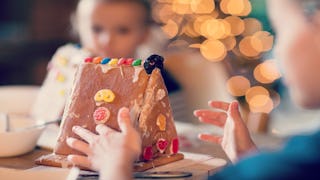 Elva Etienne/Getty Images
In my Pinterest-fueled fantasies, I'd love for my house to look like Martha Stewart and Chip and Joanna Gaines collaborated to decorate that shit for the holidays. There'd be gleeful festivity oozing from every nook and cranny. There'd be twinkling lights adorning everything that wasn't moving. It would smell like baked goods and happiness, with a fire crackling in the hearth as snow falls gently past the window panes.
As it is, though, my house smells more like bickering children and farts. And I'm not even sure what is oozing from every nook and cranny, but I guarantee there's nothing gleeful or festive about it.
Regardless, I try every year to make this season magical for my family. But in the process, under this weird self-imposed pressure, I end up making it something that verges on torturous for myself. I'm busy enough as it is, so it's virtually impossible to squeeze the celebratory extras into my schedule, and yet here I am: squeezing.
I stay up late into the night decorating and wrapping until my eyes are as glazed as a holiday ham. I attend parties and events between Scouts and basketball practices – and when we do get a free evening at home, I feel the need to fill it with something seasonal, like rounding up the family to watch a holiday movie in matching PJs (when, let's be real, they'd rather be playing video games in their underwear).
I make my grandmother's roll-and-bake sugar cookies, which are a pain in the ass, and cringe as I watch my kids decorate them, tossing sparkling sugar everywhere like confetti. And every couple of hours, it seems, I'm re-hanging an ornament (or twelve) or re-taping a piece of tinsel or rearranging a wayward centerpiece. I end up stress-eating entire batches of fudge and slamming hot chocolate like a little elfin frat boy, even though I'm pretty sure my kids wouldn't even notice if the centerpiece was jacked up.
So this year, I've vowed to do something different: I'm going to have a half-assed holiday. I'm bowing out of the elaborate decorations – in fact, maybe I'll let my kids decorate the tree themselves while I relax on the couch (and try not to think about how asymmetrically-placed the ornaments are). I'm not committing myself to a cookie exchange this year, and if my children wanna bake, I'll toss 'em a tube of cookie dough and remind them to be careful with the oven; it's hot. I'll put on a movie and a pair of festive socks and yell to my family that if they're coming to watch with me, they should probably bring some microwave popcorn. I'll ask them what they want to do, how they'd like to celebrate, instead of just imposing some kind of traditional shit on them because "that's what people do at this time of year."
A half-assed holiday doesn't mean I'm not trying to make it magical; it means I'm loosening the proverbial reins and transferring the magic-making into my kids' hands, a responsibility that feels more like a privilege at their age. Imagine how excited they're going to be to finally decide the highlights of the season for themselves. Imagine how much more relaxed everyone will be if I stop trying to make everything so damn perfect and just let it happen. Because chances are, they're not going to grow up and say, "Man, if only my mom had just put more effort into our holidays."
When I was little, my dad rented a Santa Claus costume one Christmas Eve; somewhere there's an '80s-era Polaroid picture of him filling my stocking. It was such an above-and-beyond thing to do, yet the only reason I remember this is because there's photographic evidence. You know what I do remember, though? The Thanksgiving where my mom woke up with a stomach virus and left the cooking of the turkey to my grandma … who forgot to turn the oven on after she put the turkey in, which no one noticed for hours. So we opted for a bucket of Kentucky Fried Chicken instead. And we laughed and laughed, and still do when we recount the story, which has become a family tradition.
Holidays don't have to be fancy to be memorable. There's beauty in simplicity. My efforts may be half-assed this year, but I'm embracing that with my whole heart.
This article was originally published on