Half-Assed Birthday Parties Are The Best Birthday Parties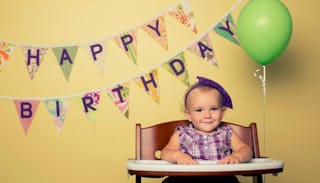 RichVintage / iStock
My daughter's 1st birthday party was two weeks ago.
I did not bake seven cakes, cut them into pieces, and stick them back together to form the shape of a unicorn.
I did not spend $100 on custom invitations from Etsy.
I did not spend hours of my life creating fondant eyes and marshmallow beaks to create cupcakes in the likeness of Sesame Street characters.
I did not carve a watermelon into the shape of a sea turtle.
I did not string together 200 balloons and shape them into Cinderella's carriage.
There was no DIY photo booth.
There were no coordinating tablescapes, centerpieces, and favors.
Lest you think I'm a total scrooge, I did print out pictures of my daughter from over the last year and string them across the mantle and hang up some decorations I had left over from a bridal shower last year. The day of the party, a friend ran out and picked up helium balloons. I baked a homemade cake, and my husband prepared some simple food.
And that's about it.
I didn't eschew an elaborate birthday party because I don't care, or because my daughter is the second child and I didn't feel like putting in as much effort. Now I'm not gonna lie — I absolutely did not have my shit together (all of the planning was last-minute and the "invitations" were a handful of frantically sent emails and text messages). But I did make an intentional decision to take a stand against the out-of-control expectations that seem to be falling on modern moms (sorry dads, but let's be serious, party planning tends to fall into mommy territory).
There was a time when cake and ice cream with Grandma and Grandpa was a perfectly reasonable birthday celebration. Now the bar has been raised to an absurd level. Keeping up with the Joneses seems to involve not only taking out a small loan to fund an extravagant affair (custom cake from a boutique bake shop, team of videographers to make sure every moment is captured for posterity, etc.), but also an unending list of DIY projects to create the perfect whimsical event worthy of a magazine cover.
If you don't believe me, just search for "child's birthday party" on Pinterest. Apparently the new normal is to spend months scouring thrift stores for reclaimed fabrics to create a shabby chic "Happy Birthday" pendant and stay up until 3 a.m. for weeks making tiny flags out of washi tape for the drinking straws.
It's great that you can easily find so much inspiration online, but this deluge of overcomplicated decor, menu, and activity ideas leaves me feeling more overwhelmed than inspired. I seem to be left with the choice of either not sleeping for a month or being a total failure as a mother.
Once upon a time before the internet, that one overachieving mom would only be able to make a small circle of other moms feel inadequate. Now with blogs, Facebook, and Instagram, that same overachieving mom can make everyone in the damn world feel inadequate.
I am not attacking the parents out there who throw these types of affairs. I know lots of awesome moms who genuinely enjoy channeling their inner Martha Stewart and putting together a big themed event, coordinated from the yard signs down to the hand-sewn favor bags. If you're into it, do your thing crafty mama!
But for other moms out there like me who feel compelled to go overboard based solely on Pinterest-induced guilt and obligation, I invite you to join my one-mom revolution. No more custom labels for the water bottles! No more color-coordinated cake pops! No more hand-punched paper chains! Maybe go really crazy and don't even have a theme. Have a celebration for your kid that you can actually enjoy because you haven't lost all the feeling in your hands from hours of cricut-ing and hot-gluing.
Now don't interpret this as one of those "OMG, kids are the worst. Screw their dumb birthday parties!" posts. I love my kids more than life itself. I just refuse to accept that over-the-top parties are required to show my love for my little ones.
You know what kids love? Cake and presents. So give yourself a break, mama. If you skip the DIY centerpieces, I promise that your little one won't hold it against you.