Undercover Research Finds Half Of Tobacco And Vape Stores Aren't IDing Teens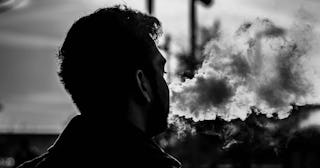 Lee Phillips/Pexels
Irresponsible adults are fueling the teenage vaping epidemic, which is all sorts of wrong
More teens are vaping than ever, with a recent study finding that over one-third of 12th graders are engaging in the bad habit every year. So just how are underage kids getting their paws on vaping devices and the accompanying nicotine? According to some disappointing new research published this week in JAMA Pediatrics, it's easy: adults are selling it to them.
An undercover operation was recently conducted in California by scientists from the California Department of Public Health and Stanford University. They found that a whopping half of tobacco and vape shops failed to ID teens attempting to purchase e-cigarettes and other nicotine products — despite the fact that California recently raised the legal age to 21.
Researchers stealthily sent a few 18- and 19-year-old "decoys" into the stores — which ranged from tobacco and vape shops to supermarkets and pharmacies — none of whom had ID. They were instructed to attempt to purchase the products, as a chaperone watched on. If asked by the store workers about their age, they were instructed to tell the truth. While many pharmacies and grocery stores were law-abiding business owners, asking the underagers for ID and refusing to sell to them, it wasn't the case with tobacco and vape stores. Nearly half of the speciality shops illegally sold the nicotine products to them, no friggin' questions asked.
Another interesting finding is that those shops were much more likely to sell underage teens vape products than traditional cigarettes. While researchers aren't sure why this was the case, Lisa Henriksen, a co-author of the study and a senior research scientist at the Stanford Prevention Research Center, believes it may be motivated by money. She suggests to CNN that "one possibility may be that vape products cost more and they might have a higher profit margin for retailers, so the temptation is greater to sell."
The FDA, who has called teen vaping an "epidemic," has attempted to do its part to keep teens away from vaping. In September, the FDA announced they were taking action against retailers selling e-cigarettes to minor, sending out 1,300 warning letters and issuing fine. In November, the agency took things a step further by proposing a plan to limit flavored vape products to age-restricted, adult-only stores, such as vape shops. While they might have the best of intentions, according to the findings of this study, shifting sales to these vape shops might not be doing any good. In fact, teens are more likely to get their hands on the products.
"We need to commend the FDA for trying to solve the epidemic of youth vaping by restricting the retail environment for these products," Henriksen continued. "What we're worried about, is concentrating sales in stores with the worst record [of age verification and illegal sales] without stepping up enforcement significantly."
This study is solid proof that raising the legal age to purchase tobacco products or only allowing certain stores to sell them isn't going to be enough if we want to curtail teen tobacco use. We need to educate ourselves as well as our children about the dangers and health risks of all tobacco and nicotine products. Period. While governmental legislation can't hurt, we can't rely on them to solve the entire dangerous problem for us.