Sports Illustrated Features First Model In Hijab And Burkini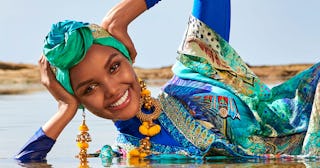 Yu Tsai and Sports Illustrated
This year's Sports Illustrated Swimsuit Issue will be even more beautiful with the addition of Muslim model Halima Aden
Sport Illustrated has made a real effort in recent years to diversify its pages. And with this year's swimsuit issue, another major milestone has been reached by the magazine: Halima Aden, a 21-year-old Somali-American model, is the first woman ever to wear a hijab and burkini within Sports Illustrated's pages.
And let us just join the many, many people who are currently saying that Aden looks absolutely stunning.
It's so inspiring to see a Muslim woman wearing a hijab and a burkini, because those are the things she chooses to wear, within the pages of Sports Illustrated. But what might be even more inspiring is the story of how Aden got to this point in her life.
Halima Aden was born in Kenya at the Kakuma Refugee Camp. She was only seven when her family was able to move to the United States. And for her SI spread, editors decided the perfect place to shoot Aden would be in her home country, on Watamu Beach in Kenya.
"I keep thinking [back] to six-year-old me who, in this same country, was in a refugee camp," Aden said during her photo shoot. "So to grow up to live the American dream [and] to come back to Kenya and shoot for SI in the most beautiful parts of Kenya–I don't think that's a story that anybody could make up."
Definitely not. No one could make up a story that beautiful.
Twitter has been pretty much blowing up with praise for Aden since the news broke that she would be featured in the issue. Let's just say people are here for Halima Aden, as they should be.
One fan even called for Mattel to make a Barbie doll inspired by Halima Aden, and TBH, would absolutely buy that.
This is very far from the first time Aden has broken down barriers as a Muslim woman.
When she was just 19, she became the first woman to wear a hijab in the Miss Minnesota USA pageant, where she was a semi-finalist. Later, she signed with IMG models and walked in fashion shows all over the world, preaching inclusion, diversity and representation in fashion. Her career landed her on the cover of British Vogue, as the first Hijabi model ever to be on the cover of a mainstream fashion magazine. She's also been a strong voice for modesty as an empowering choice that women can make in their fashion choices.
"We believe beauty knows no boundaries," Sports Illustrated Swimsuit editor MJ Day said. "I admire Halima, and I consider her an inspirational human for what she has decided to use her platform for and her work with Unicef as an ambassador. She is, in my opinion, one of the great beauties of our time, not only outside but inside. When we met, I was instantaneously taken by her intelligence, enthusiasm and authenticity."
We couldn't agree more. Halima is beautiful inside and out, and we cannot wait to see her SI spread in its entirety when it hits newsstands on May 9.