Hallmark Is Launching A Radio Station That Plays Christmas Music 24/7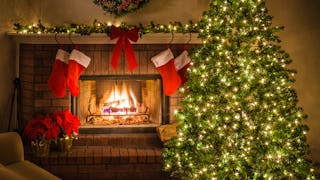 Image via Istock/Getty Images
Don't want to wait for your favorite holiday tunes? This is your moment
Get your bells ready to jingle all the way, people. The Hallmark Channel is launching its own radio station which will start playing holiday tunes in time with their "Countdown to Christmas" movie series beginning November 1. If this doesn't put the happy in your holidays, nothing will.
The network will begin playing hits from yesterday and today on SiriusXM and they're easy to find — the "Hallmark Channel Radio" will debut on channel 70 and this is the exact sort of good news we can get behind.
And if you're thinking, 'Who on earth will be qualified enough to host such a classic playlist,' you'll be pleased to find out it's none other than Fuller House actress and Hallmark Christmas star, Candace Cameron Bure.
When you aren't getting your Drummer Boy on, stay tuned in for Hallmark Channel royalty like LeAnn Rimes, Holly Robinson Peete, Lacey Chabert, Kellie Pickler, and others who will stop by to chat with Bure about all things Christmas.
As someone who already has their Christmas sheets on their bed (compliments of Charlie Brown and Vermont Country Store, of course), this is the best news I've heard since finding out there's a Harry Potter advent calendar.
The Hallmark "Countdown to Christmas" festivities kick off on October 27 this year with Christmas at Pemberley Manor (followed quickly by Christmas Joy and It's Christmas Eve), and Hallmark already announced earlier this year they'd be having another record-breaking year with not 35, not 36, but 37 films and an original soundtrack. If you're not willing to wait until November to hear your favorite seasonal songs (and really, who is?), download the original soundtrack called 'It's Christmas, Eve,' featuring an entire album of original songs written by its star, LeAnn Rimes.
If you're one of those, "omg, can't we at least get through Halloween before we start singing holiday carols?" I would like to be the first to tell you, "No, no we cannot." If you're inclined to wait, so be it. The rest of us will be rocking out in our cars to a little 'Santa Claus is coming to town' by the Boss himself, smiling smugly to ourselves.
Once the programming on Sirius begins, you can get your Christmas on through the SiriusXM app on smartphones, as well as online. Of course, the tunes will be jamming 24/7 so no matter the time of day, it'll always be the most wonderful time of the year.
This article was originally published on