Hallmark Just Announced Their 'Christmas In July' Lineup, So Set Your DVR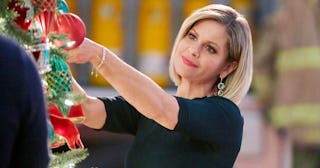 Crown Media/Hallmark Channel
Cuddle up and watch some Hallmark holiday movies — six months early
Summer is just starting to heat up and many of us are already lathering ourselves in SPF and hitting the pool, beach or lake. As much as we love the sun, swimming and carnival season, there is one thing usually missing from the months of June, July and August: good television.
Hallmark came up with an incredible solution to this problem a few years back by offering us Christmas in July, a concept that not only gives us an excuse to stay in and watch movies, but our favorite Hallmark holiday movies. It's pretty brilliant, to say the least.
Well, get your cocoa and twinkling lights ready because the network just announced their latest summer lineup, which will kickoff on Friday, July 12.
While we can't wait to watch every single film, there are a few of our favorites that stand out in the crowd.
In Christmas Next Door, hitting your screen July 12, Jesse Metcalfe (of Desperate Housewives hunkdom) plays a die-hard bachelor who falls for Fiona Gubelmann, his Christmas obsessed neighbor. Loves ensues, obviously, but let's pretend we didn't even see that plot twist coming.
We are always down for a Candace Cameron Bure holiday flick, because she is one of the network's holiday movie OGs. Switched for Christmas will definitely satisfy this fix. Bure plays identical twin sisters planning their respective Christmas parties. They decide to swap lives for the holiday, and adorable craziness ensues, of course.
LeAnn Rimes and Tyler Hynes star in It's Christmas, Eve. The country singer plays interim school superintendent Eve, who is forced to trim her budget. Her hunky next-door neighbor Liam is a music teacher at the school, and Eve thinks his program needs to be cut. But there are Christmas miracles to be had, and it's possible that Eve will be celebrating future holidays with Liam and his daughter.
The other great thing about Christmas in July, is that you can absolutely stay in every day and binge-watch Christmas movies. They literally schedule them almost every hour of the day.
In the meantime, they're been running other holiday favorites on Fridays in June. There's still two more to go before July hits, so set your DVR.
Here is the full schedule, so you can start planning your month around it. Because, let's be all honest: we are all going to take at least one day off from work and the kids to lock ourselves in an air conditioned room and get our binge-watch on.
This article was originally published on