Hallmark's 'Countdown To Christmas' Movie Lineup Is Already Here!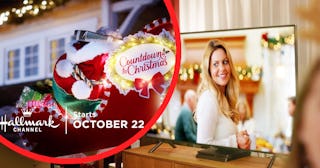 Hallmark
This year, Hallmark is going bigger than ever with its Holiday movie lineup, and I've already got my slippers and hot cocoa ready
As you may or may not know, the first day of fall was yesterday. And as you also may not know, there are only two seasons: Summer, and Cold Cozy Times. Now that the Cold Cozy Times are here, Hallmark is making the changing of the seasons official by releasing its plans for its 2021 holiday movie lineup — and when we say this is the biggest year ever for the network, we're not exaggerating.
This year, Hallmark is celebrating 12 years of cheesy, delightful holiday programming with its most ambitious lineup ever: 41 original titles, including the first one ever to premiere on Hallmark's streaming service, Hallmark Movies Now. Holiday programming will kick off on October 22, and all the full details will be revealed over the next few weeks. In other words, light up that fall candle and get snuggled under a blanket in front of the TV. Oh, and plan to stay there until next summer rolls back around.
Of the movies that have been announced so far, of course we're most looking forward to the one starring Hallmark Holiday Queen Candace Cameron Bure, who will star alongside her Fuller House co-star John Brotherton this year. Their movie, called The Christmas Contest, will follow two exes, Lara and Ben, as they compete in a Christmas-themed contest to win money for charity. "The city watches them battle and choose what is more important, victory or love," according to the synopsis. Unfortunately, The Christmas Contest doesn't have a premiere date yet — but we're sure it will soon.
Another one we can't wait to see is The Christmas House 2, a sequel to last year's movie that was the first in Hallmark history to prominently feature a same-sex couple. In the sequel, the Mitchell brothers are back to see who can create the best Christmas House once again — and stars Robert Buckley, Ana Ayora, Jonathan Bennett and Brad Harder are all returning to reprise their roles.
That's not the only reunion to look forward to. Brandon Routh, Kimberley Sustad, and Gregory Harrison will reprise their roles from their 2014 hit, The Nine Lives of Christmas, in a new cat-themed holiday story: The Nine Kittens of Christmas.
Of the 41 total original films, here's what's been announced so far:
You, Me & The Christmas Trees, premiering Oct. 22.
Boyfriends of Christmas Past, premiering Oct. 23.
Christmas in My Heart, premiering Oct. 23.
The Santa Stakeout, premiering Oct. 24.
Christmas in Harmony, premiering Oct. 29.
Coyote Creek Christmas, premiering Oct 30.
The Christmas Promise, premiering Oct. 30.
Christmas Sail, premiering Oct. 31.
Open by Christmas, premiering Nov. 5.
Next Stop, Christmas, premiering Nov. 6.
Debbie Macomber's A Mrs. Miracle Christmas, premiering Nov. 6.
A Christmas Treasure, premiering Nov. 7.
Christmas at Castle Heart, date TBD.
The Christmas Contest, date TBD.
The Christmas House 2: Deck Those Halls, date TBD.
The Nine Kittens of Christmas, date TBD.
The Christmas Bond (working title), date TBD.
Sister Swap: A Hometown Holiday and Sister Swap: Christmas in the City, dates TBD.