Hallmark's 2019 Christmas Movie Lineup Will Air Starting This Week
by Christina Marfice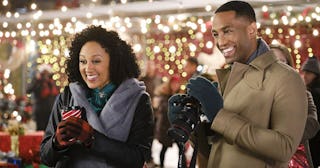 Crown Media
Deck the halls — the Hallmark countdown to Christmas is right around the corner
Forget decking the halls and trimming the tree and eating the roast beast and family and friends and hot cocoa — everyone knows the best thing about Christmas is the Hallmark Channel. The holiday season simply is not complete without cozying up on the couch and flipping to the channel that provides all the cheesy, rom-commy holiday cheer we need to make our hearts grow the requisite three sizes.
And for those of us (cough, me) who already believe 'tis the season despite the weather insisting it's still basically summer, I come with great tidings: Hallmark has released its entire holiday movie and TV schedule for 2019. The best part? It all starts this week. Time to cue up those Christmas pick up lines and dive right in.
Yep, that's right. That means we know exactly what to look forward to this season, and, more importantly, the exact date that Christmas season will begin. The first day that we can pour ourselves a big ol' mug of cocoa and peppermint schnapps and settle in for some cheesy Christmas goodness will be… drumroll please… Oct. 26. Yes. It's one day earlier than last year. Before Halloween. Thankfully, they released a video this week full of previews for the upcoming season, so grab that cocoa (still 85 degrees outside, but who cares?) and get cuddly.
To the chorus of people undoubtedly crying about Christmas creep, I say, "Bah, humbug!" This is wonderful news. It is simply never too early for holiday cheer, and Hallmark gets that.
Last year, the channel broke its own record by releasing 38 new Christmas movies during the extended holiday season. This year, they're outdoing themselves again, with 40 new movies. 40. FORTY. This is gonna be our best year ever, y'all.
So what's topping our list of delightfully festive movies to see? Well, there will be films this year that star Jodie Sweetin, Kellie Pickler, Lacey Chabert, and Candace Cameron Bure, so obviously those ones. And after the success of last year's Time For Me to Come Home for Christmas, Blake Shelton is collaborating on another holiday flick, though no real details have been released about it. Let's be real here, though, are we more excited for some Hallmark movies over others? No. No, we are not, and we will watch all of them with joy in equal measure.
We also have two holiday-themed series to look forward to: Project Christmas Joy: Alabama, in which a town in need will get "extreme Hallmark holiday transformation," and Christmas Cookie Countdown, which will pit five home cooks against one another in a competition to make the best holiday treats. Honestly, can this season of joy even get more joyful than this?
The Hallmark Christmas Countdown is finally about to begin, which is basically the best news ever. But in the meantime, if you really need a fix, Netflix already has its catalog of delightfully cheesy holiday films up and ready for your enjoyment. Merry Christmas and Happy Holidays, movie fans.
This article was originally published on