The Hallmark Channel Just Released Their Holiday Movie Lineup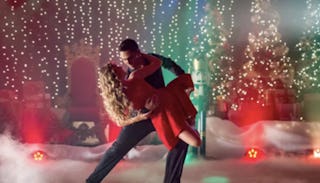 Image via Hallmark Channel
Hallmark released its holiday movie lineup and pass the popcorn immediately
Grab your comfiest blanket, coziest socks, and all the best snacks. Hallmark just released their holiday movie lineup and it's one delightfully cute rom-com after the other. Prepare for a winter wonderland filled with old flames, small towns, and some great celeb appearances.
Let's start with Christmas at Pemberley Manor (October 27).
It stars Michael Rady (aka Kostos from Sisterhood of the Traveling Pants, be still my heart), as a"high-profile billionaire" who has zero interest in partaking in holiday festivities. Then, he meets a New York event planner who's in town to organize a holiday festival, and you better believe that sparks fly. Already putting this one in my calendar. I will go anywhere that Kostos is going.
Next up, we have Christmas Joy (November 3).
Meet Joy Holbrook (aka Danielle Panabaker, who definitely made you feel lots of feelings in the Disney movie Read It And Weep). She's a market researcher who rushes home to help her aunt recover from surgery. She is then reunited with her crush Ben, and some old feelings reemerge. If only all of our old crushes turned out as dimpled and plaid shirt wearing as Ben did.
The very next night you can tune into Road To Christmas (November 4).
Maggie Baker is a television producer who falls for Danny Wise, the former producer of his mom's Christmas special Julia Wise Lifestyle. It stars Chad Michael Murray, which means that after you watch this movie you need to do an immediate rewatch of the early 2000's classic Freaky Friday. Christmas movie + Jamie Lee Curtis singing Britney Spears with Chad Michael Murray = the best night ever.
Then, the lineup takes take a musical turn with It's Christmas, Eve (November 10).
Eve (played by THE Leann Rimes) is an interim school superintendent who cuts the budget of a music program. However, some sparks with a music teacher just might change her mind. All fingers crossed that there are multiple duets in this movie.
Now, let's return to some more small town quaintness with Christmas in Love (November 11).
Ellie Hartman is a small town baker. Nick Carlingson is a big city CEO who's in town for business. This movie will likely make you want to pack up all your belongings, move to a small town, and start making croissants. Please also develop a southern accent while you're at it.
A complete list of Hallmark movies can be found here, so peruse at you leisure and start marking your calendar. This winter will be filled with former crushes, life lessons, whole towns totally obsessed with Christmas, and enemies turned lovers. Nothing wrong with that at all.