Hallmark Pulls Ad With Two Brides Kissing After Conservative Group Complains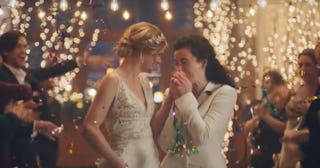 Zola
Hallmark removes Zola wedding commercials with lesbian couple after conservative group, One Million Moms, called for a boycott
Several Zola wedding ads featuring lesbian couples kissing have been pulled from the Hallmark Channel after conservative group, One Million Moms, published a petition urging Hallmark to "please reconsider airing commercials with same-sex couples."
In a statement on their website, One Million Moms claimed that Hallmark "ruined" their family-friendly image by airing the ad and that they are "fed up with having the gay agenda crammed down our throats!" 25,000 people signed a petition urging Hallmark to pull the ad and the cable network ended up killing four of the six commercials.
The New York Times reports that when Zola asked Hallmark for clarification on why they were pulling the ad, a representative for Hallmark said "we are not allowed to accept creatives that are deemed controversial," and that it was the "public displays of affection" that the cable chanel took offense with. Same-sex couples appeared in all four of the blacklisted commercials and the Times added that "in one of the two ads that were permitted to continue to air, a bride and groom kiss passionately at the altar."
"The only difference between the commercials that were flagged and the ones that were approved was that the commercials that did not meet Hallmark's standards included a lesbian couple kissing," Mike Chi, the chief marketing officer of Zola, said in a statement. "Hallmark approved a commercial where a heterosexual couple kissed. All kisses, couples and marriages are equal celebrations of love and we will no longer be advertising on Hallmark."
Later, Hallmark's parent company Crown Media Family Networks said that they ultimately pulled the ads because "the debate surrounding these commercials on all sides was distracting from the purpose of our network, which is to provide entertainment value."
Interestingly, the Hallmark channel has previously aired Zola ads featuring gay couples, but it's only now that One Million Moms seemed to take notice. In their petition, the conservative group lamented the Hallmark Channel's recent quote that they were "open" to featuring more LGBTQ couples in their Christmas movies.
"Shame on Hallmark for airing commercials with same-sex couples and even considering movies with LGBT content and lead characters," One Million Moms wrote.
After the news broke, an equal number of LGBT individuals and allies spoke up in defense of the Zola ad.
"This is the lovely ad that [Hallmark Channel] pulled from their broadcast after conservatives complained," read one tweet. "A simple kiss by lesbian newlyweds. Same-sex marriage has been the law of the land for four years. LGBTQ families are beautiful."
Most of the tweets in defense of Zola continued in kind.
We're curious to see what happens with Hallmark's tentative plans to create holiday films with queer couples and whether or not they'll continue to receive pressure from conservative groups.