The Hallmark Channel Will Release 34 Holiday Movies So We Have Something To Look Forward To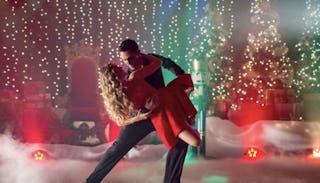 Image via Hallmark Channel
This year's Hallmark Channel Christmas lineup is a network record
Hold on to your stockings everyone. Spring may be officially here, but the Hallmark Channel just announced it's planning to release 34 new original Christmas movies this year. The network is apparently determined to put more fa in our la la and we're here for all of it. Yes, we know it's March and no, we don't care.
According to Entertainment Weekly, this year will set a record for the Hallmark Channel and its sister network Hallmark Movies & Mysteries (HMM), which debuted a combined 33 holiday films in 2017, up from 28 in 2016. I'm no mathematician but that's almost 20% more holiday cheer in less than two years. It's literally a Christmas miracle.
The network's lineup will include 22 new movies on the Hallmark Channel, beginning October 27 (because who doesn't want to get their Christmas on while prepping for Halloween), and 12 will premiere on Hallmark Movies & Mysteries, beginning November 4.
If you're all, "What the hell, I can't wait until freaking October to get my ho ho ho on," have no fear — HMM's Gold Crown Christmas programming block will air reruns from June 29 to July 8 and Hallmark Channel's Keepsake Christmas has you covered through July 15. If this propels you to put up your Christmas tree before the 4th of July, so be it. You do you.
For a network that begins a Christmas countdown the day after Christmas, it only makes sense they bestow upon us 34 all-new chances to get into the holiday spirit. They love the holidays and dammit we're all going to love the holidays whether we like it or not.
The network is also running a "Merry Madness Christmas Bracket" where you can pick your favorite movie out of the matchups they provide and vote throughout the playoffs until one winner is revealed and earns a whopping $10,000. That could put a serious dent in holiday shopping for the next 10 years.
They haven't given too many clues about this year's lineup, but with gems like last year's Magical Christmas Ornaments, which, according to Entertainment Weekly contains "a traumatic breakup, hot neighbor, and, well, magical Christmas ornaments" and The Sweetest Christmas that gave us a "reunion of old lovers, love triangle, and tasty pastry," the possibilities are endless.
But wait, there's more.
If 34 new holiday flicks just won't quench your thirst for the festive period, Lifetime also announced they'll be releasing 14 new holiday movies this year, more than double their 2017 lineup. And you just know Netflix will be upping their jolly game after the success of 2017's A Christmas Prince.
If loving all of these addictive, yet, unrealistic Christmas movies is wrong, I don't want to be right.