Hallmark Channel Will Reinstate Ads Featuring Same-Sex Couple
by Christina Marfice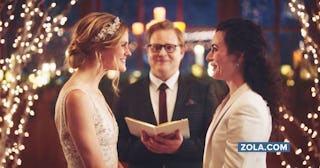 ZOLA/Youtube
Hallmark will bring back the Zola ad it pulled from airing, and promises to do better with LGBTQ+ representation
Over the weekend, Hallmark pulled a series of controversial ads, keeping them from airing on the network. The ads were for wedding planning service Zola, and what made them so "controversial" is that they featured a pair of brides kissing on their wedding day.
A conservative group called One Million Moms petitioned Hallmark, and the company caved to that pressure and removed the ads. But now, several days later, the network is backtracking on that decision and will reinstate the ads so they can air again.
"The Crown Media team has been agonizing over this decision as we've seen the hurt it has unintentionally caused," Hallmark CEO Mike Perry said in a statement the network released on Sunday night. "Said simply, they believe this was the wrong decision."
Perry continued, "Hallmark will be working with GLAAD [Gay & Lesbian Alliance Against Defamation] to better represent the LGBTQ community across our portfolio of brands. The Hallmark Channel will be reaching out to Zola to reestablish our partnership and reinstate the commercials."
Perry's statement also acted as an apology for the harm that Hallmark did by pulling those ads.
"Our mission is rooted in helping all people connect, celebrate traditions, and be inspired to capture meaningful moments in their lives," he said. "Anything that detracts from this purpose is not who we are. We are truly sorry for the hurt and disappointment this has caused."
Reactions to Hallmark's decision have been largely supportive, though some people are still less than thrilled the network caved to pressure to remove the ads in the first place.
Now the ball is in Zola's court. The company can choose to continue running its ads on the Hallmark channel, or it can take them elsewhere.
"We were deeply troubled when Hallmark rejected our commercials for featuring a lesbian couple celebrating their marriage, and are relieved to see that decision was reversed," Zola's chief marketing officer, Mike Chi, said in a statement of his own. "We are humbled by everyone who showed support not only for Zola, but for all the LGBTQ couples and families who express their love on their wedding day, and every day."
Zola initially submitted six different ads to be aired on the Hallmark channel, and four of them featured a same-sex couple. When Hallmark made the decision to remove the ads featuring same-sex couples, they only pulled those four ads. Zola actually pulled the other two.
Here's hoping Hallmark learned from this, so we can all resume our cheesy holiday movie viewing in peace.