Halloween Christmas Trees Are The Holiday Mashup 2020 Needs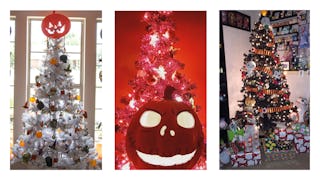 Image via charlenephillips92/Instagram/waynelbennett/Instagram/frankenstein69/Instagram
Halloween Christmas trees are officially a thing and you're going to want to get in on this tradition
Halloween is spooky, whimsical, and the best excuse to eat all the sweets. Christmas is cozy, family-filled, and so many presents. What if – bear with me here – we actually combined both the holidays together? Halloween Christmas trees are a thing now and they're scarily glorious.
Buckle up for the most gothic Christmas trees you'll ever see. Forget the cute ornaments and candy canes. These trees come complete with cobwebs, witch hats, and so many creepy skulls. Intrigued? Scroll on for the best holiday mash-up since Seth Cohen invented Chrismukkah.
First up, we have this truly magnificent creation. It's a tree wrapped completely in orange ribbon and topped off with a witch hat. The grave and skeleton casually hanging out on the couch are also A+ touches.
https://www.instagram.com/p/BJ_vxeOAfUf/?utm_source=ig_embed
How BADLY do you want to spend Halloween with this family? So many presents. So many vampires and mummies.
https://www.instagram.com/p/Bc-7pyog0FK/?tagged=halloweenchristmastree
Okay, massive shout-out to this Halloween/Christmas devotee who put a star on top of the tree and Frankenstein handing out pixie sticks at the bottom. Ultimate win-win.
Everything is ridiculously orange and I couldn't love it more.
https://www.instagram.com/p/BoswOH1hdkS/?tagged=halloweenchristmastree
Well, hello, super sophisticated Halloween Christmas tree. If you don't have an angry pumpkin sitting on top of a tree by October 31st, I think some life evaluating needs to happen.
And, yup, always best to throw a dead pirate into the mix.
Here's hoping that you live your very best Halloween Christmas this year. Santa and the Undead will be so, so proud.
This article was originally published on