Halloween Costumes For Cats Exist And OMG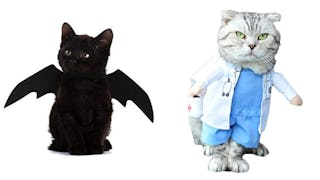 Image via Amazon
These Halloween costumes for cats have officially won the entire internet
Buckle up because there's a very, very large overload of furry cuteness up ahead. Amazon is selling Halloween costumes for cats and your heart might burst a little bit. Ever seen a kitten dressed up like a lion? Just you wait.
On October 31st, your cat can be just about anything you want him/her to be. Batman? Check. Doctor? Check. Piece of pizza? Um…check. Halloween just got a whole lot more whimsical.
Does your cat have the swagger of John Wayne? The grit of a saloon regular? The ability to hold eye contact until you have to awkwardly turn away and look at the ceiling? Then, yes, they should definitely dress up like a cowboy this Halloween. The neighborhood cats will shake in their furry boots.
If you have a tiny black cat and you don't attach a pair of tiny black bat wings to them on Halloween, then – in the immortal words of Julia Roberts – you've made a big mistake. Big. Huge.
I told you that things were going to get ridiculously cute. Prepare for an abundance of fur when you dress your cat up as a mini lion this month.
Speaking of animals dressed up like other animals, I would like to direct your attention immediately to this peacock costume. Is it kinda random to dress your cat up like a peacock? Yup, maybe. But what's the point of Halloween if things don't get a little weird?
Sign me up for literally anything that involves unicorns. Especially when it involves a golden horn/multicolored mane combo attached to a cat's head. I guess real magic exists after all.
Are you looking for a more low-key, straight to the point Halloween costume? Then go with this classic number. I can't guarantee it, but there's a good chance that your child will receive double the candy if you guys show up with this little pumpkin in tow.
What do you get when you combine your fluffiest cat with a mushroom pepperoni olive slice? A very, very delightful Halloween costume that will make you want to order a few boxes of pizza by the end of the night and then sneak (more than a few) pieces of your kid's candy.
There are few things better than animals dressed as people. This doctor costume can be worn by your cat on Halloween or when the two of you curl up to rewatch Grey's Anatomy for the 15 millionth time.
Important side note: These might be Halloween costumes but they can literally be used anytime of the year. I suspect that watching your kitten walk around the house dressed as Batman won't ever get old.
We are a participant in the Amazon Services LLC Associates Program and may earn fees by linking to Amazon.com and affiliated sites.
This article was originally published on