Jerk Cancels Halloween Because Trick-Or-Treaters Are From 'Other Neighborhoods'
by Julie Scagell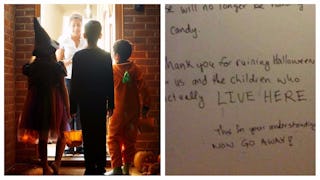 Image via Peter Muller/ Getty Images/ Facebook Adventures of a Couponista
And the Oscar for Best Dramatic Actor goes to…
Halloween is a time for haunted houses, dressing up, and one of a handful of days where it is perfectly acceptable to eat candy for dinner. But one family's sign feels decidedly more like Scrooge came early and decided to set up shop for the festivities, refusing to hand out candy if a kid isn't from their neighborhood.
Adventures of a Couponista came across the photo and though the source is unknown, its creator clearly had a lot to say about trick-or-treating for children who don't live in their neighborhood. "Due to the fact that people from other neighborhoods truck their children into this neighborhood by the dozens, this house will no longer be handing out candy," the sign reads. "Thank you for ruining Halloween for us and the children who actually live here. Thx for your understanding now go away!"
So, there's a lot to unpack here. First, how do you define exactly where a neighborhood begins and ends? If the kids are coming from three streets over, is that considered against the rules? Do families need to set up strict zoning policies for an acceptable distance to travel? Should neighbors mark a circumference in chalk around their 'hood and only those within the circle get candy?
Also what about the kids who live in rural areas where there may not be a house for miles to trick-or-treat? Where are they supposed to go? And others who don't feel safe trick-or-treating in their neighborhoods. Should those kids be left out of the chance to experience Halloween? The night is about creating fun for all kids, not just the ones who live within a certain mileage of someone's home.
It seems based on the reactions others agree:
"The bah humbug of Halloween. You only have to turn out your lights when all the candy is gone."
"We lived in the country where our house was the only house. Where the heck were we supposed to take our kids? We went to their grandparents house and everyone was so kind. I always buy extra candy now that I live in a neighborhood. People come to my door, they are getting candy!"
"Seriously? Buy more candy, not everyone can live in a neighborhood. People are mean."
"What difference does it make? It's about handing out candy to kids. If their neighborhood isn't safe enough, or people don't pass out candy, I see nothing wrong with the kids trick-or-treating in safer neighborhoods. Good grief!"
"What the hell… Some people live in the country where there is no trick or treating. Trick or treating isn't for adults to be judgmental of children it is meant for kids to be able to dress up as their hero or favorite monster and have fun."
It doesn't make a lot of sense to punish trick-or-treaters because there are a few more handfuls of candy to pass out. If the candy runs out, turn off your lights and call it a night. Perhaps this family ruined their own Halloween rather than the other way around.
This article was originally published on